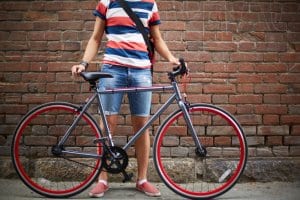 When thinking about purchasing cannabis, many people picture making a trip to a dispensary or independent pot shop. What if I told you that you didn't have to journey out to a dispensary to buy cannabis? What if you could order the cannabis products you wanted and get it delivered to your home? Well, as of February of this year, Portland, Oregon cannabis retailers and retail courier businesses can do just that: deliver quality cannabis right to your front door.
Whether you're a regular medical cannabis patient, a steady recreational cannabis user, or a beginner interested in trying some of the best strains in the city, weed delivery in Portland is ideal for anyone aged twenty-one and above who wants to medicate. It is great for those who cannot find the transportation, energy, or time to get to a dispensary. Thanks to this convenient and efficient cannabis delivery service, you no longer have to worry about spending your time and money on either gas, a taxi/ride service, bus fare, or any other forms of transit.
Rather than putting extra effort and time into get your medicine after school, work, or other everyday duties, you can chill out and wait for Portland's conveniently simple weed delivery services to do the job for you. All you have to do is sign for the package and let your stress, worries, and pain float away.
Updating the Marijuana Code
As of February 2017, the Portland, Oregon City Council voted unanimously to adopt the proposed additions and changes to the city's marijuana code, according to The Oregonian. Portland Commissioner Amanda Fritz said the following about this change: "Since the state regulations keep changing and the industry keeps flourishing, we'll be coming back with multiple changes, I'm sure."
Back on December 15th of 2016, the Portland City Council voted to add a new license category that would include retail marijuana couriers, which operate similarly to other retail marijuana businesses, except the courier businesses can only deliver cannabis products to customers.
Delivery Restrictions
Furthermore, as stated in The Oregonian, marijuana couriers need to have a licensed headquarters within a permitted building in an area approved by city zoning laws, which is the same for traditional marijuana retailers. Overall, couriers operate differently due to the fact that they cannot sell their products from storefronts; however, they can open and position themselves nearby other cannabis businesses. Something for people to keep in mind, though, is that the cannabis couriers have specific hours; they only take orders from 8 a.m. to 8 p.m., and they are unable to deliver products after 9 p.m.
Of course, there are different regulations and requirements in place that all cannabis businesses have to follow. This includes the fact that retailers and couriers can only deliver within the city they are licensed in, the cannabis products must be transported in a locked box and secured to the delivery vehicle, and each cannabis delivery business cannot carry more than $3,000 worth of product at a time, nor can they deliver products to campgrounds, motels, or dorms.
Helping Small Cannabusinesses
According to Portland's KCW.com, The Oregon Liquor Control Commission (OLCC) had granted delivery permits to 117 retailers across Oregon, including thirteen in Portland. The OLCC proceeded to implement a cannabis tracking system that provides a document, which would allow for the delivery of recreational cannabis to various customers' homes. The unanimous vote to approve cannabis delivery services, as well as the approval of over one hundred delivery permits, was done with the intention of promoting "micro-business entrepreneurs" in the cannabis industry within Oregvon.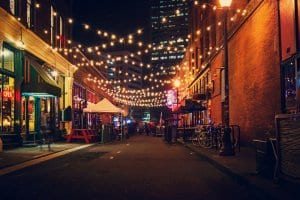 Rather than large cannabis corporations coming in and squashing the independent cannabis shops, Portland's legislation changes specifically address this issue, and the city has been pushing for the incorporation of small-scale cannabis businesses. As stated in The Potlander, in Portland's documents, the proposed code amendment says the license will "allow market entry for small business entrepreneurs."
Portland, Oregon's mayor, Charlie Hales, shared his thoughts and enthusiasm over the newly approved measures in a Herb.co article: "It's great to see small businesses starting in the community, trying to do this the right way, and working with us trying to figure out the regulatory issues as we go along."
Overall, the city of Portland not only encourages the addition of more delivery couriers and smaller, independent cannabis retailers, but they also acknowledge and understand the significance of cannabis as a medicine. Thus, the implementation of weed delivery services is an effective solution to customers unable to travel to a dispensary and purchase their cannabis products in-person. As long as you are over twenty-one years old and you live in a residential home, you are a suitable candidate to receive cannabis deliveries right to your door.
Through the accumulation of weed delivery couriers, small business expansion will occur, and as a result, more entrepreneurs will have more opportunities to get involved in this rapidly growing industry. The cannabis industry is booming in many areas nationwide, however, regarding cannabis delivery businesses, Portland takes the top spot over both Washington and Colorado's lack of cannabis delivery couriers and retailers.
Way to Go, Portland!
Overall, this weed delivery concept is extremely unique on its own, especially because it is not happening anywhere else. Next time you need or want to get medicated, but you cannot physically get to a dispensary (on time or at all), fear no more, because Portland's weed delivery services are just one phone call or online order away!
If you're looking for a positive in-person dispensary experience when visiting Portland, be sure to check out a few of the most popular and well-known dispensaries below:
Paradise Found, which is open every day until 10:00 p.m. If you're looking for a late-night dispensary run that offers genuine help and coupons for its customers, this is the place to go
Main Street Marijuana, a twenty-minute drive from Portland porter, and otherwise referred to as "the pinnacle of recreational marijuana dispensaries."
Paradise Found is a proud partner of Leafbuyer.
Article By: Nicole Skrobin