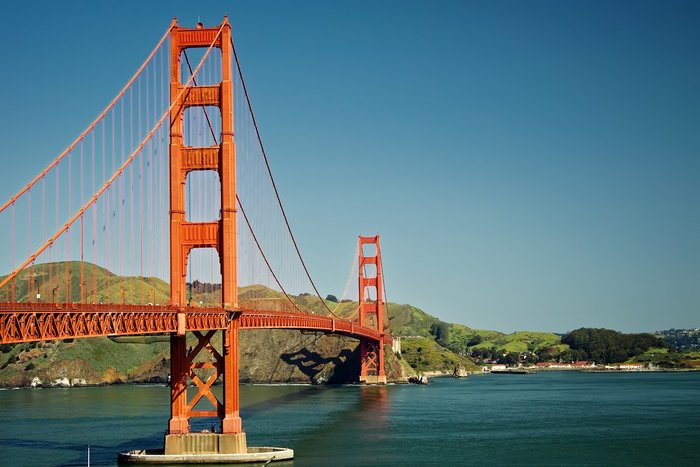 Edibles, edibles and more edibles: the Bay Area of Northern California has an immense selection of artisan treats that pack a hefty punch of cannabis intensity. Producers of edible cannabis goods in California tend to err on the side of organic, all-natural, GMO-free products whenever possible — which is always a good thing. From freshly baked brownies to top-shelf chocolate bars and delicious gummy treats, San Francisco is one of the best cities in the United States for cannabis enthusiasts with a sweet tooth.
When it comes to potency, San Francisco edibles are no joke. California has yet to open recreational pot stores, so all of the dispensaries in the city are stocked with edibles that contain medicinal doses of marijuana. That means you'll get five or 10 times the bang for your buck as compared to Washington or Oregon recreational edibles. In California, 100 milligrams of THC or more can be consumed in a single bar. Not a bad deal!
With that said, let's take a look at some of the most popular edibles in San Francisco and around the Bay Area:
KIVA Confections Chocolate Bars

KIVA founders Scott Palmer and Kristi Knoblich had a dream to make medicated artisan chocolate bars with unique flavors, and they have built one of the most well-known medical cannabis operations in the Golden State. Their KIVA Confections bars are stocked in hundreds of dispensaries throughout California, and they can be found virtually anywhere in the San Francisco area. KIVA won Best Edible at the San Francisco High Times Cannabis Cup in 2013, and the company has grown to over sixty employees since its inception in 2010.
How does a Ginger Dark Chocolate bar packed with 30 milligrams of both THC and CBD per serving sound? What about the Espresso Dark Chocolate bar, with 60 milligrams of THC and CBD in each serving? KIVA also produces chocolates with heavier THC content, such as the Vanilla Chai Milk Chocolate and Mint Irish Cream Milk Chocolate varieties. Most KIVA bars are available for around $20, but their traditional milk chocolate and dark chocolate offerings can be found for under $15. Just head to your favorite dispensary and tell them you want the good stuff.
CALIGOLD
Speaking of chocolate, look no further than the famous CALIGOLD brand for another serving of premium edibles. The company serves up a selection of strain-specific treats such as the OG Kush or Sour Diesel dark chocolates, each topped with Himalayan salt.
The ACDC 22:1 CBD-THC ratio dark chocolate is another strain-specific option for those looking for some CBD. The CALIGOLD Semi Dark Chocolate Bar is 53% cacao and contains 125 milligrams of THC. Reviewers call it an "upscale Hershey bar." CALIGOLD only sources non-GMO, fair trade chocolate for their edibles, so there's no need to feel guilty while you are enjoying a relaxing evening with their delectable goodies.
Auntie Dolores Savory Snacks

Raise your hand if you love salty snacks! Auntie Dolores has been concocting savory treats for the people of San Francisco since 2008, and it's easy to see why these edibles are flying off the shelves.
Her Savory Pretzels contain 120 milligrams of THC per bag, and we found them on sale for $20 at Barbary Coast on Mission Street. These pretzels are incredible; they're salty, crunchy, and they contain enough umami spices to keep you hungering for more. Oh yeah, and they're both vegan and diabetic-friendly.
Your new favorite Auntie also makes glazed pecans which are recommended for salads or dessert toppings. The salted caramel corn edibles have a nice balance of savory and sweet in every bite. We also recommend Auntie Dolores chili lime peanuts and cheese biscuits, if you're into that sort of thing.
Madame Munchie French Macarons
It's not a macaroon, it's a macaron. It's a meringue-based cookie filled with a soft and chewy interior, and Madame Munchie has been supplying the Bay Area with some out-of-this-world macarons since 2014. The popular Citrus l'amande Macaron is made with orange zest and house-made almond butter. 
There's also the Hazelnut Mocha Macaron, which is made with espresso, chocolate ganache and hazelnut butter. The Tropical Jungle Macaron includes fresh banana puree and chocolate ganache, and the PB&J macaron is a heady twist on one of your favorite childhood sandwiches.
Madame Munchie offers her macarons in five-packs, so you don't have to make the difficult decision of choosing just one flavor. Each macaron contains 20 milligrams of THC, for a total of 100 milligrams per package. The macarons were named best edible at the High Times Cannabis Cup in San Francisco. They're also gluten-free and made from locally sourced ingredients. It's a win-win situation.
Sensi Chew
Sensi Chew's edibles taste kind of like a tootsie roll, with a hint of caramel. The company's origins go way back to Silicon Valley in 2008. Sensi Chew has since grown to offer a dozen different cannabis-infused delicacies, each with unique characteristics depending upon the desired effect for the consumer.
For daytime consumption, try the Sensi Chew 100 (made with a sativa strain) or perhaps the Sensi Chew Energy, which contains a dose of caffeine. At night, Sensi Chew recommends their indica-based candy or the Sensi Chew Insomnia, which contains melatonin to induce drowsiness. Sensi Chew offers three different CBD options.
For cannabis lovers that want to spice up their bedroom life, there's the Sensi Chew Amore. This exotic treat contains an aphrodisiac called Tongkat Ali, which will make the user more sensitive to the touch while also generating a nice buzz from the 25 milligrams of THC per dose. Sensi Chew can be found all around the Bay Area. Most varieties are on sale at BASA on Mission Street for just $10 each.
Korova
Korova's cannabis-infused desserts are popular throughout the state of California, and San Francisco is no exception. The Bay Area loves the Fifty One Fifty Bar, a chocolate chip cookie baked on top of a triple chocolate brownie that contains a massive 500 milligrams of THC. Korova's Black Bar goes to even greater lengths for medical consumers, packing 1,000 milligrams of THC for those who can handle a heavy dose of cannabis. 
Other Korova favorites include the salted caramel blondie and the mint dip, a chocolate cookie topped with green mint frosting. Korova has a wide selection of goodies, many of which contain smaller doses of THC to accommodate consumers with a lower tolerance. They're available in plenty of dispensaries throughout San Francisco, so you won't need to search for too long to get a taste of all Korova has to offer.
If your mouth isn't watering yet, it certainly should be. San Francisco edibles are known for their exceptional flavor and organic ingredients, and we've just given you the guide to the best stuff out there. The Bay Area is one of the nicest places to visit in the United States, and the selection of edibles makes the San Francisco experience that much better. There are a bunch of great dispensaries on Mission Street, so you may want to start your journey there and see where it leads.