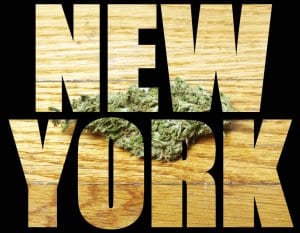 New York City is one of the largest metropolitan areas in the U.S., and it's home to millions of residents. As of July 2016, the U.S. Census Bureau estimated that 19.75 million people live in New York City. Although marijuana is only medically legal in New York, according to a CBS News poll, it has been found that 12.83 percent of New York residents smoke marijuana. This amount equates to millions of people who use marijuana for either medical and/or recreationally reasons.
Basic New York Marijuana Laws
In New York, medical marijuana is legal, and there's a handful of medical conditions/diseases that individuals must be diagnosed with to qualify for a medical marijuana card. These conditions/diseases include cancer, chronic pain, epilepsy/seizures, HIV/AIDS, Huntington's Disease, amyotrophic lateral sclerosis (ALS), inflammatory bowel disease, Parkinson's Disease, PTSD, multiple sclerosis, neuropathies, and spinal cord damage, as stated by NORML.org. Recently, chronic pain and PTSD were added to the list of qualifying conditions after countless marijuana advocacy groups and suffering patients voiced the importance of adding these conditions.
Details of New York's Medical Marijuana Law
In addition, although marijuana is medically legal in New York, home cultivation isn't allowed. New York's marijuana laws allow qualified patients to possess a 30-day supply of marijuana-infused non-smokable products. New York's marijuana laws prohibit the usage of smokable marijuana products and topical products, however New York's Department of Health recently stated:
"Registered organizations will be allowed to manufacture and distribute additional products including topicals such as lotions, ointments, and patches as well as solid and semi-solid products including chewable and effervescent tablets and lozenges. Certain non-smokable forms of ground plant material will also be permissible for manufacture and distribution."
Furthermore, New York's marijuana laws allow each medical marijuana patient to have two caregivers; however, each caregiver cannot serve more than five certified patients, according to NORML.org. Although New York's medical marijuana program is in full effect, changes are still being made so that medical patients, caregivers, practitioners, etc. can have an all-around better experience.
So far, New York has five producers of marijuana-based preparations in addition to up to twenty licensed dispensing centers. Also, this past year, New York's Department of Health registered five additional entities to manufacture and dispense marijuana-infused products, which will significantly speed up the marijuana manufacturing and distribution process.
New Regulations for New York's Marijuana Laws
This past August, New York announced a new set of regulations for the state's medical marijuana program, which includes allowing the manufacturing and sale of additional medical marijuana products like topical ointments, lotions, and patches in addition to solid and semi-solid chewable tablets and lozenges, according to New York's Department of Health. The regulations also allow for new courses that'll help prospective practitioners complete their medical marijuana training in less time.
Overall, the intention of implementing these new regulations is to improve the state's program by making new forms of medical marijuana available while also improving New York's dispensing facility experience, as stated by Dr. Howard Zucker, the New York Department of Health Commissioner. These new regulations will go into effect on December 27th of this year, which will benefit both current and prospective patients, practitioners, and registered medical marijuana organizations. As of December 8th of 2017, there are 38,642 certified medical marijuana patients and 1,358 registered practitioners participating in the state's program, as stated by NY Department of Health.
New York Marijuana Laws & Potential Penalties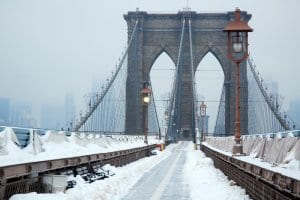 Fortunately for New Yorkers, marijuana has been decriminalized to some degree. For example, if someone is caught possessing marijuana, the conduct is treated like a minor traffic violation as compared to getting arrested as in other states. However, there are other penalties and consequences that people could face if they're careless with their marijuana possession and/or consumption habits. Since marijuana is listed as a Schedule I drug on the New York Controlled Substances list, there are many risks that come with consuming marijuana if you're not a medical patient.
For example, the possession or sale of marijuana scales or balances for weighing and/or measuring marijuana is a Class A misdemeanor, which can result in up to one year of imprisonment, according to NORML.org. In addition, marijuana that's open to public view and/or marijuana that's being burnt in public is a Class B misdemeanor, which is punishable with a $250 fine and a maximum jail sentence of 90 days. Next, if you're a first offender and you're caught with possession of up to 25 grams of marijuana, you'll have to pay a $100 fine, and if an additional offense occurs, the fine doubles.
Furthermore, the term 'marihuana' is used in NY criminal code, and it's defined as including both plant-form marihuana and concentrated cannabis. The concentrated cannabis is known as the separated resin of the cannabis plant whether it's raw, purified, or a mixture that contains at least 2.5 percent THC, according to NORML.org. If concentrated cannabis is sold to a 17-year-old or younger individual, it results in a Class B felony, which results in no more than 25 years imprisonment and up to a $30,000 fine. However, even if you possess concentrated cannabis, you can face imprisonment and expensive fines if you possess an ounce or more.
Overall, New York marijuana laws are relatively relaxed as compared to many other U.S. states, and fortunately, the state continues to make changes to their medical marijuana program. New York lawmakers want to help people involved in their program while also building on the progress they've made since launching the program nearly two years ago. If you don't qualify for a New York medical marijuana card, be mindful about illegal marijuana usage, especially around underage individuals. Although marijuana has been decriminalized, the substance is still federally illegal, so there's no guarantee that you won't get in trouble with the law for consuming marijuana.
Learn about nationwide marijuana possession laws here.
To find out other U.S. states that may legalize recreational marijuana, check out this article.
Article by: Nicole Skrobin