ALBANY, N.Y. — USA Today reported Sunday that Assemblywoman Amy Paulin (D- Westchester County) has introduced a new bill that would give veterinarians in New York state permission to prescribe medical marijuana to sick animals.
The proposed legislation argues that medical marijuana has benefited countless people with debilitating illnesses and provided them with relief. The bill says that scientific research indicates that medical marijuana could also benefit animals in a similar fashion, providing people and their pets with an alternative to more harsh prescription drugs.
Evidence exists showing that THC is toxic to dogs, but the medical marijuana that veterinarians would be permitted to prescribe for animals would be cannabidiol (CBD), which is extracted from the cannabis plant and has little to no tetrahydrocannabinol (THC). BBC News America reported that the College of Veterinary Medicine and Biomedical Sciences at Colorado State University was conducting two promising clinical trials that studied CBD treatment on dogs for arthritis and epilepsy.
The studies were conducted by Dr. Stephanie McGrath and recently concluded, but the results have yet to be published. The animal supplement industry already earns more than $500 million annually, with several companies already making CBD products for pets with the THC extracted.
Medical marijuana became legal in New York in 2014 when the Compassionate Care Act was passed, which was fully implemented in 2016. New York Sen. Diane Savino (D-Staten Island) wrote the legislation that permits patients suffering from AIDS/HIV, ALS, cancer, Parkinson's disease, multiple sclerosis, epilepsy, IBS, and Huntington's disease to be treated with medical marijuana.
Gov. Andrew Cuomo signed legislation last year on Veteran's Day expanding the state's medical marijuana program to include post-traumatic stress disorder to the qualifying list of conditions. Cuomo is also considering a study to determine how recreational marijuana legalization would benefit New York.
Paulin says that the new legislation could help animals with chronic illnesses that have not gotten relief from other treatment. The bill has yet to find a sponsor in the Senate.
California's Trailblazing
The bill is modeled after a bill in California introduced last month that is being supported by the California Veterinary Medical Association. AB 2215 was introduced by Assemblymember Ash Kalra (D-San Jose).
Kalra is also the Chair of the Assembly of the Aging and Long-Term Care Committee. AB-2215 would require the California Veterinary Medical Board to provide guidelines for veterinarians to talk about medical marijuana with pet owners. The legislation would also require the Veterinary Medical Board to protect veterinarians who want to write medical marijuana prescriptions for animals.
Paulin told the NBC affiliate WGRZ in Albany that people want the same relief for their animals as they do themselves. "People love their pets, as I do mine, and you just want to afford them the same civility, treatment that we have for ourselves," said Paulin. She hopes to meet with veterinarians in the area soon to discuss the bill and garner more support.
Well-Vetted Legislation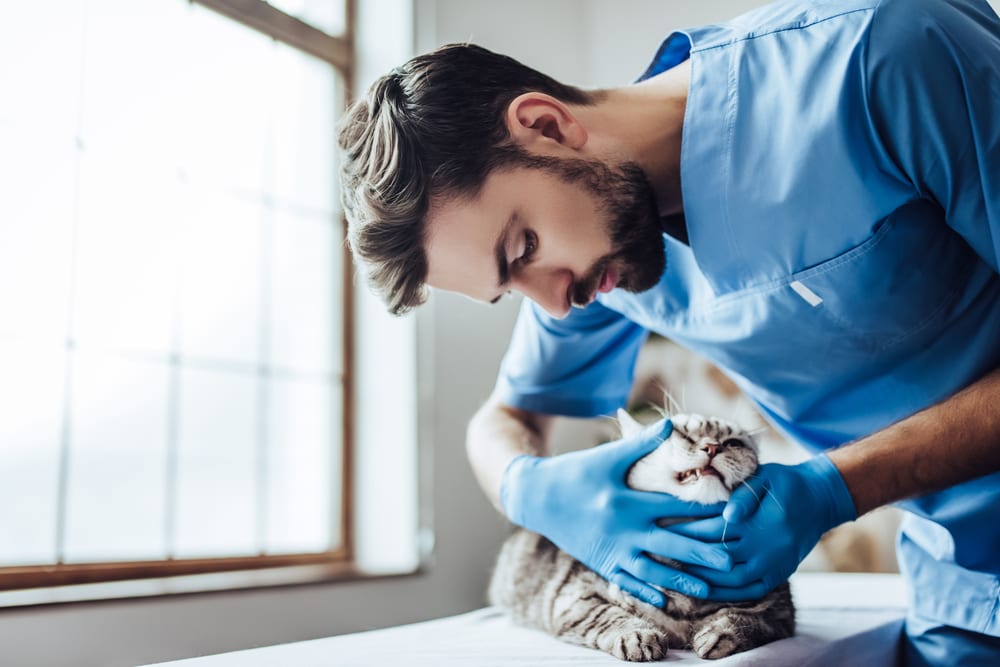 Veterinarian Dr. Susan Wylegala said that many people are asking her about medical marijuana treatment, but there isn't enough information about dosages or reactions available about how marijuana affects pets, adding that more research needs to be conducted. "Most companion animal owners are requesting information and are certainly looking for options for alternative treatments for their pets," she said.
Dr. Wylegala also said that she is hopeful that the media attention from the bill will prompt more medical research, adding that medical marijuana could potentially improve the quality of life for animals with arthritis and cancer. She said that strict laws due to the opioid epidemic has limited veterinarians and made it more difficult for them to prescribe medicine.