Colorado may hold a reputation for its marijuana industry, but the neighboring state of New Mexico is far different. While the Land of Enchantment boasts a rich art scene and eccentric architectural and cultural character, much of New Mexico is quiet and slow, and most of the New Mexico marijuana laws have yet to catch up with the rest of the country. They are on their way, however, with a rapidly-growing medical marijuana industry and the potential for recreational legality seemingly right around the corner. Let's get the details worked out:
Is Marijuana Legal in New Mexico?
According to New Mexico statutory law, recreational use of marijuana is illegal. Penalties differ based on the use and amount. And while various legislation has attempted to lower some of the penalty fees and the threshold at which they are required, there are still substantial consequences tied to marijuana charges. However, medical use of marijuana has been legal since 2007 based on the Lynn and Erin Compassionate Use Act.
A Brief History of Medical Marijuana in New Mexico
Back in 1923, the state of New Mexico prohibited marijuana entirely. Despite this early prohibition and the fact that marijuana is still illegal and/or highly-regulated, it turns out that New Mexico was actually a pioneering state for medical marijuana.
The aforementioned Lynn and Erin Compassionate Use Act is named after two New Mexican cancer patients from the 1970s: Lynn Pierson and Erin Armstrong. Pierson especially was known as an activist in favor of medical marijuana, as there is evidence that it greatly helped him overcome some of the adverse symptoms of chemotherapy as he received treatment for a bad case of testicular cancer. It was illegal, taboo, risky, and experimental, but it worked; Pierson passionately made his case to New Mexico state legislators, presenting evidence they could not ignore. For the first time in the United States, a research lab was created to focus on medical marijuana and its interactions with diseases like cancer and glaucoma. It was known as the Controlled Substances Therapeutic Research Act and has been serving as a model for other states since that time.
There have been motions over the years to repeal this, but none has taken hold.
Medical Marijuana
New Mexico is one of 30 states and Washington, D.C. to legalize the consumption of medical marijuana. It was the 12th state in the U.S. to do so. Legalization occurred with Senate Bill 523, also known as the Lynn and Erin Compassionate Use Act of 2007. Revisions have since taken place. According to the New Mexico Department of Health, it was legalized "to allow the beneficial use of medical cannabis in a regulated system for alleviating symptoms caused by debilitating medical conditions and their medical treatments."
Enrollment in New Mexico's Medical Cannabis Program does require an application to the New Mexico Department of Health, but it is free of charge. Even minors are eligible to participate in the program, though permission from a parent or guardian 21 or older is required.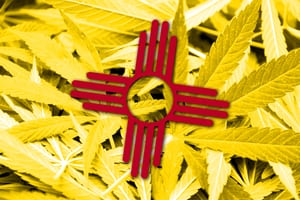 The following rights are included with enrollment in the Medical Cannabis Program:
The bill clarified a strict possession limit of no more than eight ounces over the course of three months.
One has the right to purchase from a Licensed Non-Profit Producer
One has the right to purchase paraphernalia associated with medical cannabis.
One has the right to later produce a medical card if not in initial possession before any charges or arrest.
Once can apply for a personal production license. The bill clarifies the right to up to 16 plants with a maximum of four mature.
The following are medical conditions that could qualify you for inclusion in New Mexico's Medical Cannabis Program, compiled by Marijuana Doctors from the Lynn and Erin Compassionate Use Act of 2007.
Severe chronic pain
Painful peripheral neuropathy
Chronic Inflammatory Demyelinating Polyneuropathy
Intractable nausea/vomiting
Severe anorexia/cachexia
Hepatitis C infection currently receiving antiviral treatment
Crohn's disease
Post-traumatic Stress Disorder
Amyotrophic Lateral Sclerosis (Lou Gehrig's disease)
Huntington's Disease
Cancer
Inclusion Body Myositis
Glaucoma
Parkinson's Disease
HIV/AIDS
Torticollis/Cervical Dystonia
Multiple sclerosis
Ulcerative Colitis
Damage to the nervous tissue of the spinal cord with intractable spasticity
Epilepsy
Hospice patients/terminal illness
Psoriasis & Psoriatic Arthritis
Inflammatory autoimmune-mediated arthritis/Rheumatoid Arthritis
Medical marijuana is regulated in part by the Medical Cannabis Advisory Board, which meets at least twice yearly. There are eight members of the board, who, according to the New Mexico Department of Health, are "responsible for reviewing and recommending to the department additional conditions that would benefit from the medical use of cannabis, accepting and reviewing petitions to add medical conditions, medical treatments or diseases to the list of debilitating medical conditions that qualify for the use of medical cannabis; recommending quantities of cannabis necessary to constitute an adequate supply, and issuing recommendations concerning rules to be promulgated for the issuance of registry identification cards."
Thus, the regulations are subject to change, but given the trends of marijuana law in New Mexico and across the country, it is more likely they would become less restrictive than the opposite in the future.
Where Can I Get Marijuana in New Mexico?
If you are a part of the MCP in New Mexico, you may be unsure about what dispensaries are in the area. Plus, patient demand remains quite high relative to the number of providers.
Never fear; there are more than 50 licensed marijuana producers in New Mexico in more than eighteen cities. New Mexico actually allows for delivery of medical marijuana, as well. Services such as MJ Express-O and Minervacanna may deliver to registered patients and caregivers in different parts of New Mexico, and more dispensaries are on their way to offering these services, as well.
Check out Leafbuyer's list of New Mexico locations as a guide to finding the right dispensary for you.
Where Can I Smoke Weed in New Mexico?
Recreational marijuana is illegal anywhere, but medical marijuana can be used in private residences and spaces. Even if you are a registered patient and member of New Mexico's Medical Cannabis Program, you do not have the right to smoke or consume cannabis in any way in public spaces. Leafbuyer's New Mexico information page reveals that you can still earn criminal or civil penalties by using marijuana in places like schools, parks, public transportation, or similar public places. This includes the workplace; employers have the right to drug test anyone, even registered patients.
Furthermore, being a member of the Medical Cannabis Program does not excuse driving while intoxicated, and this is a crime "punishable by $300 fine at the minimum but up to $500 fine, 90-days of imprisonment, and 24-hours of community service. Additionally, anyone caught driving under the influence may be subject to having their license suspended and may have to participate in a driver rehabilitation program." Driving in possession of marijuana is legal, but only for registered patients, caregivers, and sellers. Weed can be transported – as long as it is not opened or used in the car – within the state of New Mexico. However, it is illegal to move marijuana across state borders. This is true regardless of the other state's marijuana laws; for example, it is still illegal to bring any amount into or out of Colorado, even though the Centennial State allows both medical and recreational marijuana use.
If you legally have medical marijuana in the state of New Mexico, your safest bet is to keep it in the state and consume it in the privacy of your own home to avoid any trouble with marijuana laws in New Mexico.
Want to be on the Business Side of Things?
It's not the easiest task to become a seller of medical marijuana, as the requirements and restrictions to get licensed are pretty complicated, but it can be done.
First, you must be 21 years or older and be thoroughly background checked.
New Mexico marijuana laws insist that sellers must operate as non-profit organizations and have a board of directors. The board must have at least one medical provider (such as a doctor or nurse) and at least four qualified medical cannabis patients.
Only after the board is arranged and all paperwork is in order can the sellers submit an application to the New Mexico Department of Health. The application fee is a whole $10,000, but if the application is denied, $9,000 of that is refundable.
If the application is approved, the nonprofit must get their plant count approved. Different fees will apply based on the plant count. For example, it might cost about $60,000 to get licensed for 300 cannabis plants. These cost and count restrictions are seen as exceptionally limited compared to other states with legalized medical marijuana. However, if you are hoping to jump into the business, it can be done, and the industry is currently pulling in revenue and struggling to meet the demand of qualified patients seeking dispensaries.
When will New Mexico Marijuana Laws Include Recreational Marijuana?
According to New Mexico's Controlled Substances Act, possession of recreational marijuana will land you a misdemeanor or felony charge, including a fine and/or jail time, depending on the amount and circumstances, as well as whether is it a first offense or consecutive offense.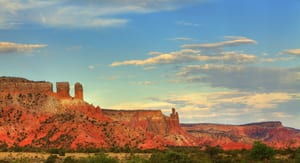 One ounce or less for a first timer can lead to 15 days in jail or a $50-$100 fine. More than one ounce or a second charge could increase that punishment to a year in prison or a $1,000 fine. Distribution and cultivation are an even bigger deal, and those caught could end up serving up to 18 years in prison under a felony charge.
For a detailed chart of penalties for possession, distribution, cultivation, paraphernalia, hash and concentrates, and more, check out NORML's compilation.
A Brief History of Recreational Marijuana in New Mexico
As noted earlier, weed was entirely prohibited in New Mexico in 1923. It was not until more recent years, as other states began to move toward legalization, that allowing the use of recreational marijuana was considered. In 2016, lawmakers in the state proposed three bills legalizing marijuana for adult use, and action has continued into 2018.
The Future
It has been said for years that recreational marijuana could potentially be made legal in the near future. According to the Santa Fe New Mexican, support for legalization is growing. As of early 2018, it was reported that 46 percent of surveyed New Mexicans "strongly support" legalization. This is a noticeable increase in percentage from 2016 surveys. New Mexico State Representative Javier Martinez introduced House Bill 312 to legalize recreational marijuana in January of 2018. The goal is to focus more on economic growth than "unpopular and wasteful" criminalization. Many see this action as an important and long-awaited step toward legalization that will ultimately benefit the Land of Enchantment. There have also been potential gubernatorial candidates in favor of legalization.
It is a tough issue, though. New Mexico as a state has consistently been on the bottom of rankings for issues like poverty, education, safety, and the like. Many, such as New Mexico's Republican Congressman Steve Pearce, question if it would be a smart to legalize a drug like marijuana in a state that already struggles with those key issues, including health and addiction. It is argued that a wealth disparity would make a difference in the success of the cannabis industry, and other states have not proven for certain that there are definitive benefits for legalization. Despite potential economic rewards, Pearce sees marijuana as just another obstacle the state would be putting in its own way if recreational legalization occurred.
Nonetheless, many sources indicate that legalization may not be more than a few years away.
The marijuana laws in New Mexico may not be as progressive as others, but the Land of Enchantment seems to be changing at a fairly quick pace. The medical marijuana industry continues to grow every day, and the opinion of the public and lawmakers on the topic of recreational marijuana seems to be fluctuating, leaving hints that perhaps more changes are around the corner.
For more information on the big question, "Is marijuana legal in New Mexico?" be sure to check back in with Leafbuyer in the future.