In November of 2016, Massachusetts, home of Mark Wahlberg, the Patriots, and an exclusive recipe of baked beans, voted to allow — nay — entitle adults age 21 and over to cannabinoid freedoms. In order to define the dos and don'ts of these new freedoms, I thought a side by side of Colorado marijuana laws compared to new Mass. laws was in order.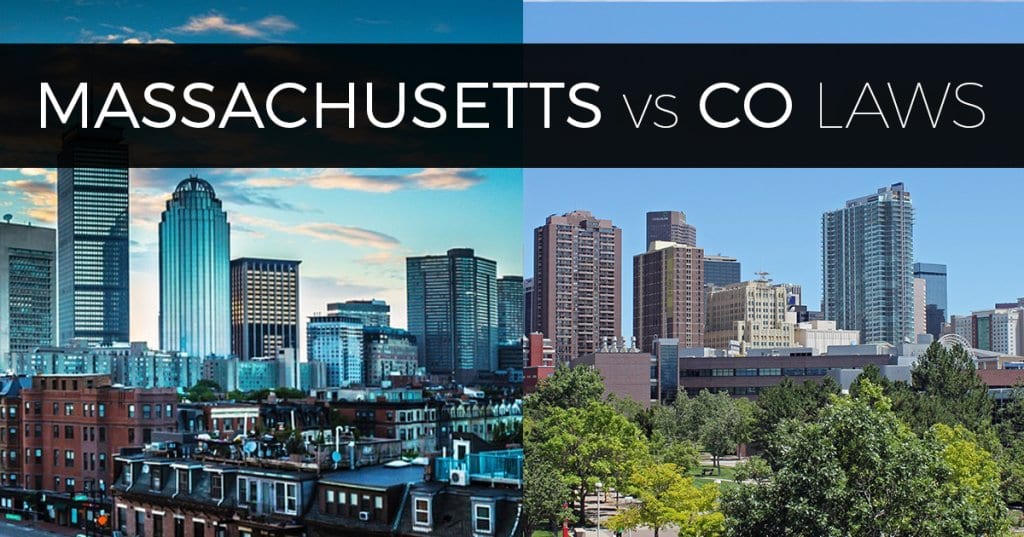 Trailblazing from the 18th Century
The history of New England is of vital importance to the history the greater America that exists today. Massachusetts was the second British colony in North America to be proclaimed by religious separatists, landing in the Mayflower in 1620. Years later, the American Revolution left the nation's first Vice President, John Adams of Massachusetts, along with the foundations of the nation we know today, finally reaching a diplomatic end where British authority was concerned.
The passage of question 4 in November 2016 marked yet another Massachusetts rejection of legal supremacy over personal freedom; a voter-approved measure flexing state rights to govern.While not the first state to boast cannabis legalization doctrine within state statutes, it is ultimately the Massachusetts government that is charged with embracing and implementation of the new laws. Here's where Colorado marijuana laws, compared to new Mass. laws, overlap and where they depart.
To play the game, you gotta know the rules
Where the Federal government often dictates the supreme law of the land, State governments are usually seen with a more limiting, less defining role of the civil and judicial freedoms.
The script is flipped where marijuana is concerned, with both Colorado and Massachusetts being entirely in charge of creating a viable administrative appendage to monitor the cultivation, sales, and distribution, as well as licensing, penalties, limits, exceptions, the entire regulatory framework therein, and the administrative execution of two concurrent state marijuana industries.
Not only that, but the collection and tracking of taxes (as well as where they are spent), applications and associated fees, audits of licensed businesses, and the fact the federally illegality makes the whole transaction both modern and antiquated, existing largely as a cash-only economy.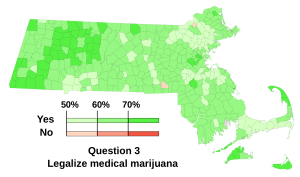 This is but one of the organizational, societal hurdles resulting from the wave of marijuana acceptance and continued Federal Congressional silence. Still, the US Department of Justice is careful, curiously enduring.
In terms of what the federal government does expect of any state that implements a marijuana industry, whether medical or recreational, there are eight main places of concern:
Keep it out of the hands of minors, save for certain diseases or conditions under a doctor's recommendation

Prevent revenues from being transferred to organized crime, gangs or cartels

Provide form and guidance regarding interstate trafficking, mostly in its prevention and analysis

Prevent the use of state sanctioned freedoms as a subterfuge for trafficking

Quell violence or weapon use stemming from cultivation and sales, if only measures to stop burglary

Study and review of drugged driving statistics and policy therein

Prohibition of cannabis being cultivated on public lands and monitor the environmental effects

Never ever on federal property
As the guidelines left by the Department of Justice specify the areas they are most interested, it is up to the state to decide how to reach those concerns, and luckily for the new Mass. laws, Colorado marijuana laws, alongside Alaska, Oregon, and Washington have all previously legalized cannabis within their respective dominion, aiding in the development of best practice.
Colorado vs Massachusetts Marijuana Laws: Administrative Structure
When it comes to setting up a potentially billion-dollar in-demand, rapid growth industry in the grander scheme of both Massachusetts and the US economy, choosing the administrative body that can adequately oversee things is crucial. Massachusetts chose the creation of two separate, collusive groups: the Cannabis Advisory Board, a 15 member board appointed the Governor and the Cannabis Control Commission, a three-member policy-crafting body. The CAB is to consist of the following credentials:
1 expert in marijuana cultivation

1 expert in marijuana retailing

1 expert in marijuana product manufacturing

1 expert in marijuana testing

1 board member or officer of a medical marijuana treatment center

1 medical marijuana patient

1 individual representing a retail cannabis consumer

2 experts in public health

2 experts in law enforcement

2 experts in social welfare or social justice

And 2 attorneys familiar with navigating Massachusetts law for business and consumers
The Cannabis Advisory Board both makes recommendations and heeds the advice of the Cannabis Control Commission, Massachusetts supreme marijuana authority. Comprised of one commissioner and two associate commissioners, in league with and appointed by the treasurer. No more than two members may share the same political party. Rules, applications, fees, licensing, penalties, etc.. are decided here.
In contrast, Colorado created a single administrative body, the Marijuana Enforcement Division, to oversee regulation, compliance, applications, and licensing. In addition to this, the Colorado Department of Public Health and Environment has designed a committee which supplies key interpretations of evolving scientific and research data around cannabis to the MED, actively addressing DOJ concerns to the public health and environment. This came as an executive order from Colorado Gov. John Hickenlooper, which also set the CO Department of Agriculture monitoring the substances that are used under cultivation.
CO vs MA: Taxes
One of the areas Colorado marijuana laws compared to new Mass. laws vary the most is in the collection of taxes. Massachusetts chose to not position the adult use and legalization initiative on an additional social welfare campaign (not that I'm complaining CO schools can get air conditioners and other needed upgrades by proxy of marijuana). Instead, the measure allowing cannabis into the Old Bay State defines a 3.75% excise tax at customer point of sale, in addition to any state or local taxes. Additionally, municipalities may choose to levy an additional tax of no more than 2%.
Colorado specifies a 15% excise tax on transfer from cultivator to manufacturer or retailer, as well as a 10% retail sales tax, in addition to state sales tax, plus any local taxes. The first $40 million annually raised from the 15% excise tax is destined to a state school grant fund, designed to help statewide public schools received funding for repairs and construction.
The tax rate is something that encourages adherence to the regulated market. Massachusetts chose to apply the collected tax revenues to a special Marijuana Regulation Fund, which is to be sent to any local government in proportion to the volume of taxes collected for the administration of marijuana regulation. If this low-tax approach is meant to make the black market look unattractive, I can't say. What is a legislative certainty, however, is that Massachusetts is looking at over a year before retail business can even exist.
CO vs MA: Timeline
The final point of differentiation between Colorado marijuana laws compared to new Mass laws: time till implementation. In December of 2012, Colorado's Amendment 64 included three concessions to tide over excited consumers while the regulation structure was laid to paper and put into tangible effect (with the state slated to begin accepting retail applications no later than July 1st, 2013):
Adults could cultivate up to six plants per adult (

check out how this changed in 2017

)

Adults could possess up to one ounce of cannabis flower, and gift it to one another so long as it was free of advertisement and remuneration

Adults could consume cannabis without fear of prosecution (as long as it wasn't explicitly public or open)
A common trend in recreational states, making this a point that Colorado marijuana laws compared to new Mass. laws were handled almost identically, save for the ten-ounce at-home possession limit Massachusetts consumers are allowed.
After the vote was confirmed by Gov. Hickenlooper in Colorado, the state got to work creating regulations that would allow the state to meet the deadlines dictated by the voter-backed measure. In full acknowledgment of the volume of spectators in the nation's first legal marijuana market, Hickenlooper used executive action to make necessary expansions in administrative responsibility and accountability of the State in public health, allowing for the marketplace to be open and available in January 2014.
Massachusetts is already exposing timeline setbacks, going as far as passing a legislative measure pushing the deadline for doors to open to July 1st, 2018, from January 2018. Additional dates specified in Question 4 that are to subject to change under the bill passed through state congress in late December 2016 are as follows:
State Treasury to make appointments for Cannabis Control Commission no later than September 1st, 2017, originally slated for March 1st, 2017

The initial regulation promulgation by the CCC is currently set to occur no later than September 15th, 2017, giving them just around two weeks, if kept in line with the text of the ballot initiative

The Cannabis Advisory Board is slated to be appointed by February 1st, 2017, but we'll see

Under several criteria, the CCC is to begin accepting applications for cultivation and manufacture facilities licenses by October 1st, 2017

By October 1st, 2018, applications for marijuana retailers will begin being accepted. This is dependent upon the total volume of medical dispensary licenses within the state; if the number is below 75 when January 1st, 2018 comes around, Question 4 requires the state to begin accepting applications on January 1st, 2018. If there are over 75 medical dispensaries (

the state currently hosts nine

), retail licenses can be pushed as far as October 1st, 2019.
As Massachusetts policy roll-out is currently subject to an onslaught of internal scrutiny, it is at the behest of potential tax revenues, inadequate medical facilities, and infrastructure pile-ons. At the same time, the immediate right of citizens to possess, grow, or consume marijuana with nowhere to buy it perpetuates old-school black market cannabis acquirement: using cash money and the phone-a-friend lifeline.