Medical marijuana is now legal in Maryland, and people with certain conditions and a recommendation from their physician can use cannabis for treatment as of December 1, 2017.
The Maryland Medical Cannabis Commission will be responsible for regulating Maryland's marijuana laws to ensure that medical marijuana is safe and available for patients. The MMCC is also in charge of registration, licensing, inspection, and laboratory testing for the cannabis program, as well as providing information on Maryland's marijuana laws.
Let's take a look at some of the legal and practical specifics surrounding Maryland's new favorite plant.
Patient Qualifications for Medical Marijuana
People 18 years of age and older who are residents of Maryland with a chronic or debilitating illness are eligible for medical marijuana. Those who are receiving palliative care or are in hospice also qualify. Non-Maryland residents who are being treated in Maryland may qualify with proper documentation. Qualifying patients under the age of 18 can consume medical cannabis administered by a registered caregiver. Approved applications will be valid for two years.
Qualifying conditions for medical marijuana are any chronic or debilitating illness resulting in symptoms that may include anorexia cachexia, chronic pain, severe pain, severe nausea, seizures, or severe muscle spasms. Patients suffering from glaucoma or PTSD also qualify for medical marijuana, as well as patients diagnosed with conditions that are unresponsive to other treatments that may benefit from medical marijuana.
Patients who register with the Commission may also have up to two caregivers registered as long as they are over 21 to purchase medical marijuana on their behalf. Qualified patients, caregivers, dispensaries, and providers can register online.
Providers
Patients need to get a recommendation from their physician for medical marijuana. Providers can only give patients a recommendation, not a prescription for cannabis, because it is still illegal under federal law. Other healthcare providers that are qualified to give patients a recommendation for cannabis under the Maryland marijuana laws include podiatrists, nurse practitioners, dentists, and midwives. So far, about 550 healthcare professionals in Maryland are registered to recommend medical marijuana to their patients.
Possession Limits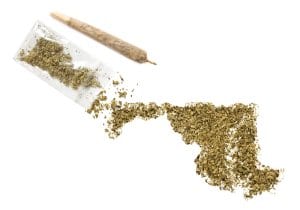 Maryland marijuana laws permit patients registered with the state and licensed to consume medical cannabis to possess up to 4 ounces of flowers or 36 grams of extract. Patients with recommendations and licenses will have access to flowers, cannabis oil, concentrates, pills, and topical ointments. Patients may have more than 4 ounces or 36 grams of extract if their healthcare provider deems it necessary.
Decriminalization and Weed in the Workplace
Maryland decriminalized marijuana in 2014, and the bill reduces possessing 10 grams or less of marijuana to a civil penalty instead of jail time. First-time offenders will pay up to a $100 fine and $250 for the second offense. Third time's the charm with a $500 fine, plus those under 21 must undergo a substance abuse evaluation. Possession of more than 10 grams and up to 50 pounds can still land you in jail for a year and a $1,000 fine. Selling marijuana is a felony and will get you 5 years up the river, and if you are caught selling or trafficking more than 50 pounds of weed, it was nice knowing you.
While medical marijuana is legal, there are no Maryland marijuana laws that would prevent an employer from drug-testing patients suspected of cannabis use. Employers are permitted to follow their own drug policies regarding cannabis use, so use caution. You can find more marijuana news here.