Seattle is the northwestern bastion of legal marijuana, serving a population of 3.7 million in the metro area. Before California and Massachusetts legalized adult use in 2016, Seattle represented the largest market for legal marijuana by population in the US.
With the sheer volume of residents and annual tourism traffic the city gets, the Seattle city council has implemented several local ordinances which alter or clarify the language of the wider state marijuana laws. In effect, this would allow businesses such as dispensaries to be licensed in the city and provide structure to local oversight.
Though the city code draws more parallels to the primary regulations formed at the state level, the few points of differentiation in local marijuana laws in Seattle can affect everything from where dispensaries can operate, how much can be purchased by recreational and medical patients, where marijuana can be consumed, and even the type of roadways where unsecured marijuana is still illegal. Here is what we know:
Where dispensaries can be located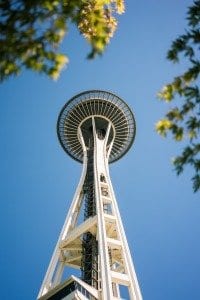 As defined by the Seattle city code, retail marijuana shops are limited not only by distance from various typical businesses or institutions (such as schools), but they are limited specifically to zoning.
The effect of this local Seattle marijuana law ultimately blocks dispensaries from operating in most residential zones, or an area where housing is more common than business.
Specifically, Seattle city code prohibits a dispensary to operate in any single or multifamily zone and several segments of downtown. Parts of Pioneer Square, the Harbor Front, and Pike Place Market are also excluded. Dispensaries must never be located within 1,000 feet of any primary or secondary school or playground.
How much you can purchase
Dispensaries in the Seattle area are permitted to sell up to an ounce (28 grams) of marijuana flower, up to 16 ounces of marijuana-infused product in solid form (aka cannabutter), as much as 72 ounces of infused product in liquid for (such as a tincture), and as many as seven (7) grams of marijuana concentrates (wax, shatter, rosin, etc.).
Where marijuana can be used
Similar to other cities where marijuana reform has taken hold, Seattle's Local marijuana laws currently forbid the consumption of marijuana at the retail dispensary, in public, while behind the wheel of a car, while in a car, or at your place of employment.
Additionally, the Washington legislature passed a law in 2015 making the operation of a cannabis social club, similar to a cannabis cafe in Amsterdam, a felony offense. Unlike many of the states who have similarly legalized marijuana, Seattle (and Washington as a whole) has passed an ordinance adjusting the penalty for using marijuana in a public place from $50, as set by Initiative 502, to a fine of $27.
What's more, local Seattle marijuana laws have been designed and implemented to put public marijuana use at a much lower priority in enforcement. In effect, this allows, but does not require, an officer to provide a warning to the individual who is using or opening marijuana publically. Seattle city code defined "public" as:
Streets or alleys in the City and state or county highways and roads

Any school buildings or grounds

A public dance hall and the grounds next to it

Any place or part of an establishment selling beer

Any public building, meeting hall, lobby, or dining room of any hotel, restaurant, theater, store, garage or filling station which is open to and is generally a place where the public has unrestricted access.

Any railroad train or other public transportation, including while waiting at a station, depot, or stop which is has unrestricted access to the public

At a publicly owned beach, park or playground

Any place where the public is, generally, likely to share unrestricted access
Driving with marijuana in Seattle
While local marijuana laws in Seattle place only a $27 fine on public consumption, additionally penalties extend to use in a vehicle. Under city ordinance 124950, any marijuana a person possesses must be kept in a place usually not occupied by the owner or passengers of the vehicle, including the trunk, while the vehicle is on the highway.
In lieu of a trunk, some other place not generally occupied by the driver or their passengers is okay; however, this does not include the glove box or any sort of utility compartment. In the event the package is unopened, Seattle does not require the marijuana be put in the trunk or otherwise out of reach.
This is not meant to imply marijuana can be used in your car when it is on a city road or alley. To enforce driving while under the influence laws of marijuana, Seattle adopted the same limit judging intoxication as the state of five (5) nanograms per milliliter of blood.
Additional information
Under most criteria, the local marijuana laws of Seattle fall in line with Washington marijuana laws. While state laws are constantly changing and the industry is, itself, in a place of rapid acceleration, we understand if you want to know more about the wonderful world of Washington marijuana. Check out our F.A.Q.s for all you need to know about the state-wide cannabis program.