The most populous state in the US passed adult recreational sales and use during state elections in 2016, formally normalizing cannabis into the ranks of California's overwhelming economic capabilities.
While the Trump Administration speaks multitudes — with Trump expressing that states should decide yet choosing an opponent of marijuana reform for Attorney General — the successful campaign to legalize marijuana in California has communicated volumes to the world (and made it easier to buy pot in California).
"We are here," voters said. "If they can do it, there's more than hope" replied the worldly, clandestine cannabis-affectionate. In a triumph of both state and federal acknowledgment of citizen rights and adult freedoms, we are left with a burning question: how to get our hands on some cannabis.
Cannabis Legalization in the US
We all know the cannabis industry in the US is propped up by an array of legislation contradictory to the Controlled Substances Act. As a consumer of a product that operates as both an illegal and legal substance, knowing how the legal environment you geographically occupy defines 'operating procedure' when a retailer is selling to a customer gives you access to a swath of underlying reasons why the industry functions the way it does– even more when you understand how the distribution works.
You'll notice that to buy pot in California, there exists an array of legislation, ordinances, country and district rulings, mandates, and governmental memos dictating how to proceed within states that operate medical and recreational cannabis programs. In fact, let's check out the federal memos first since they apply throughout the US:
You'll notice that to buy pot in California, there exists an array of legislation, ordinances, country and district rulings, mandates, and governmental memos dictating how to proceed within states that operate medical and recreational cannabis programs. In fact, let's check out the federal memos first since they apply throughout the US:
The Cole and Ogden Memos
The Cole and Ogden Memos refers to a series of a memorandum sent from the Attorney General's Office instructing the Federal Department of Justice on how to proceed regarding marijuana cultivation and sales. While California had long-since begun meddling in medicinal cannabis by the time these memos floated across to the DOJ, the words held on each page specifies the Federal government's recommendations to law enforcement.
Resoundingly, the memorandum detailed the perceived 'low-risk' in cancer patients and others suffering, whom may receive a therapeutic benefit from cannabis, stating it would likely be a waste of government dollars and could be perceived negatively.
Sent first by Deputy Attorney General David Ogden in October 2009, clarified and expanded by Deputy Attorney General James Cole twice (in 2011 and 2013, respectively), the memos never put the Schedule of cannabis into question.
Rather, they each provide cautious evolutions of existing regulations by deprioritizing cannabis by Federal investigative bodies in the places where voters have approved measures to allow the drug, either medically or recreationally.
What does it mean?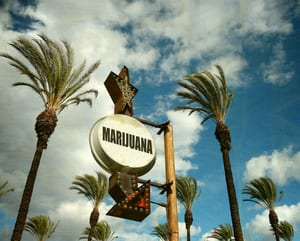 To buy pot in California is to break the federal law, yet the Cole and Ogden memos direct the federal law to be enforced only under specific circumstances in regards to marijuana, in good faith that state regulation is more than scrupulous.
In the most recent of the memorandum, the Deputy AG furthered this point, directing the Federal focus to prevent minor consumption, combating interstate trafficking, preventing health and safety issues, and monitoring cultivation practices, to name a few. As we will see, many of the concerns of the Deputy AG are embodied in the laws that permit marijuana in California.
Medical Protections Extend to Recreational Market
The 2013 memo was an effort by the Federal government to adjust their position on the issue of cannabis in a way that doesn't waste tax dollars. As a result, recreational sale markets were granted a little less anxiety over the precarious legal position of their business.
Beginning in 2016, three pieces of legislation were enacted that would give the state of California a standardized licensing department, standards of practice in cultivation and manufacturing processes, environmental effects, etc… Titled "The Medical Cannabis Regulation and Safety Act", this trilogy actively builds on the framework defined by the Cole & Ogden memos in the following ways:
Set up of statewide licensing structure, based on type and size of the facility

Creation of committees, appointments to the

Bureau of Medical Cannabis Regulation

to oversee the social, health impact(s). These vary in scope, involving at least three different governmental bodies.

Sets guidelines for retailers, employers either retailing, cultivating, transporting, or manufacturing

Set-up age restrictions and verification methods

Verify the backgrounds of business applicants, ensuring separation from a criminal enterprise
The full effect of these laws is yet to be seen, as the licensing authority isn't set to begin issuing licenses until 2018. Prop 64, California's Adult Use of Cannabis mandate, builds on this framework, enhancing the way in which cannabis products are taxed, transported, distributed, and retailed. The unfortunate truth lurking behind both: they exist unreconcilable within the current Federal legal practices, making buying pot in California both a blessing for the customer and a regulatory nightmare for the business.
Getting your greens
California is estimated to have over 700,000 cannabis patients currently registered within the state system. While this makes up less than 2% of the total population of California, the total enrollment is at least 7x that of Colorado. As regulators continue to work to meet the 2018 deadline for licensing, consumers are left for over a year without anywhere to legally purchase their cannabis. Luckily, however, this wait is emboldened by three initiatives within Prop 64 affecting how you buy pot in California:
It is legal to grow up to 6 plants at home
It is legal to use cannabis in the state as long as you are: above 21, not in public, not driving, etc¦
It is legal to 'gift' up to an ounce, or 28.5g of flower
On the recreational side of retail sales, you are out of luck until licenses and permits are created, submitted, accepted, and issued by the California Department of Public Affairs. This is depended upon the creation of two entirely new pieces of software that fulfill the state licensing requirements and a 'track & trace' system cataloging from seed to sale required by MCRSA, Prop 64 as well as a senate confirmation for the Chief of the Bureau of Medical Cannabis Regulation.
This leaves you with three options: grow your own (up to 6 plants per adult aged 21 and up), find a friend who feels like giving you a 'gift', or get your medical card (I recommend all three, simultaneously.)
Any hunt to buy pot in California legally will inevitably lead you to the doors of a dispensary: Let us help. We here at Leafbuyer compile the best deals from the top dispensaries for you. Just click on our dispensary finder and we will populate dispensary information close to you, allowing you access to exclusive deals from nearby businesses just for you. You can also access our dispensary finder now on the Westword marijuana page!
Conclusions
The cannabis-imbibing populations dispersed around California are surrounded by positive outlooks: within a year, licensed facilities may begin to show up; within five, the revenues from sales are expected to top several billion in the state, in addition to the already billion-dollar medical industry. While we wait, Prop 64 had an immediate tax-removing effect on the medical industry.
For current patients, rather than paying the state sales tax, as was the case prior to Prop 64, you only pay the state and local excise taxes when you buy pot in California. Given that the excise tax structure defined by Prop 64 only goes into effect once recreational licensure has begun, patient's may see this a 'thank you for your patience' type of accident, if not an incentive to join the medical community.
If it is anything like Colorado, a deluge of recreational stores stealing up market share and generating tax revenues is coming to California. The biggest consideration when buying pot in California is patience and self-awareness: You are in the biggest state, with a population the size of 6 Colorados, 5 Washington States, or 51 Alaskas.
If you are cool with waiting for your plants to bud, perfect. If not, the medical route would be more transparent than the 'phone-a-friend-for-a-gift' option, but either one works and they are both totally legal. Remember, the excise taxes, once enacted, are set at 15%. Additionally, cities and counties may enforce their own requirements, including on home growing.
An example would be Indian Wells, California, where the city council ruled that anyone wishing to grow at home has to pay an annual licensing fee and allow city inspections. While entirely unreasonable, at times, these people are just doing what they think is in the communities best interest.
Hopefully, the results will change their minds.