Retired NBA champion Lamar Odom told reporters at The Blast that marijuana helped him get off crack cocaine. Odom has invested in a cannabis company called Rich Oil Organics, which will cultivate organic marijuana products.
Odom infamously overdosed in a Nevada bordello in 2015. Odom was in the midst of a divorce from Khloé Kardashian at the time, but Kardashian stayed by his side as he hovered near death in a coma for several days, capturing headlines.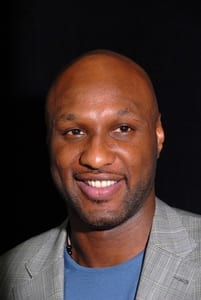 Kardashian and Odom married in 2009 after dating for a month. Kardashian filed for divorce in 2013 after Odom continually abused cocaine and other drugs, as well as repeatedly cheating on Kardashian. She stopped the proceedings when Odom was found unconscious at the Bunny Love Ranch Brothel. Kardashian was responsible for making the health decisions for Odom while he was incapacitated and helped him with his several-months-long recovery.
Hers was the first face he saw after awaking from his coma. He told The Players' Tribune that after all the bad things he had done to her, he was surprised to see her and knew he must be in bad shape for her to be there. He decided while in the hospital to go into rehab. The couple eventually divorced in 2016.
Odom said marijuana was helpful to him as he recovered from his cocaine addiction. He said that when he was in drug rehab, he found certain strains of cannabis that helped him to control his cravings. Odom said that so many former teammates and friends asked him how he was able to recover from opioid addiction that he decided to invest in the marijuana industry as a means to help others in recovery get access to something that helped him recover.
Evidence Found Marijuana Can Combat Drug Addiction
Several studies show that marijuana can help people suffering from drug addiction, and researchers say that legalizing marijuana nationwide will decrease deaths from opioid overdoses simply by writing more prescriptions for marijuana than for opioid prescription painkillers. Researchers say that over-prescribing opioids is a major factor in the countrywide opioid epidemic.
A study conducted by W. David Bradford at the University of Georgia found that Medicare patients in medical marijuana states with dispensaries filled 14 percent fewer opioid prescriptions than in non-marijuana states. Another study conducted by the Scripps Research Institute concluded that cannabidiol could decrease relapses in people recovering from alcohol or drug addiction.
The Journal of the American Medical Association (JAMA) conducted a study in 2014 which found that states with medical marijuana had almost 25 percent fewer opioid overdose deaths than other states.
Many veterans are also advocates for marijuana legalization because of its effect on vets with PTSD as well as its ability to decrease opioid prescription dependency. A study conducted by Veterans Affairs found that veterans were two times more likely to die from a prescription opioid overdose than the average person.
So many people die of opioid overdoses in the country that the U.S. Surgeon General just advised everyone to carry naloxone, a drug that reverses an opioid overdose, because an overdose happens approximately every 12 minutes in the U.S. daily. More than 42,000 people died from an opioid overdose in 2016, and people are increasingly seeking out marijuana as a viable treatment for addiction.
Odom is expected to launch his new organic cannabis line later this year in California. Rich Soil Organics plans to cultivate marijuana that is organic and grown without any pesticides. Odom said that with marijuana legalization in place, now was the perfect time to offer the public alternative treatment options like marijuana, especially people struggling with addiction as he does. The company will also make cannabis concentrates and other extracts.