As the medical marijuana industry in Los Angeles has grown up, the process of patient's receiving their marijuana from a caregiver and the caregiver, under the state law, being able to be in the care of multiple patients simultaneously, lead to the creation of nonprofit cooperative grows. From this framework, the common, modern dispensary was born. Jars on walls, products displayed within glass cases, in refrigerators, and on counter tops, the dispensary of the modern day comes with one more common perk: the patient
Finding the best deal in the Los Angeles marijuana industry is often difficult to do. Not because deals and specials are scarce; rather, there are just so many to choose from. Any great deal hunter will tell you tracking down the deals is only half of the process. When it comes to medical marijuana deals, patients in Los Angeles are spending green to get green to save green.
Check out some of our favorite deals for members and medical patients in the LA:
Divine Wellness Center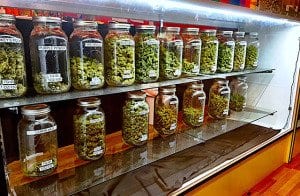 Divine Wellness Center has been operational in the Los Angeles area for over a decade. Beginning in 2005, Divine Wellness quickly established their brand of marijuana and marijuana-infused products through constant quality, affordable medicine. The care Divine Wellness Center dedicates to the patient experience goes beyond, focusing so intentionally on each patient's outcomes it transforms a medical relationship into a community builder.
The Deals
$45 grams of ice wax (testing above 90%)

$220 top shelf ounces

$99 ounces of OG shake

Two infused Horchata drinks @ $15 each
The Specials
Monday: 10% off edibles!

Wednesday: All wax, oil, carts, concentrates between $5-$10 off!

Friday: Top Shelf 1/8ths for $30
Green Dragon Caregivers
One of Hollywood's premier marijuana providers, Green Dragon Caregivers carry products outshining even the glam associated with Hollywood. Bringing compassion to both patient interaction, but also the products, strains, and other merchandise or service they provide to their medical marijuana patients. Go to Green Dragon Caregivers to find the best dispensary deals for medical marijuana patient in the Los Angeles area. Check out this review:
"living here in the valley I've gone to a couple of shops none of them match Green Dragon they got the best weed the best wax and the best service that you can get and the hook you up on your 7th visit and you don't have to be counting on how many times you've gone there Thank You green dragon for the free gram and for being the best in the west and in the valley" – Unknown from the Green Dragon Collective webpage.
The Deals
$200 ounces, a 33% savings!

Brass Knuckle brand vape pen for only $50 per 500mg

Heavy Hitter brand vape pen for only $45 per gram

Premium quarters for $70

$20 grams of OG wax, over $30 savings!

Top shelf 1/8ths for $35 any day of the week!
Reseda Discount Caregivers
Reseda Discount Caregivers boasts quality products, expertly grown buds, and a staff so knowledgeable it's almost as if their job was being fascinated by the plant down to a chemical level. The level of compassion is stunning, matching the product quality and enhancing the entire experience. This dispensary gives a lot back to their Los Angeles patients, through the best medical marijuana deals, freebies, and events.
The Deals
10% off Brass Knuckle vape pens (up to 5)

Buy one gram of Cali Honey Shatter and get 0.5 gram free

25% off California Honey Extracts (up to 3 gram)

High Balls chewing gum FREE with any purchase (expires 5/31)
The Specials
New patients get a free gram!

New patients get two for the price of one 1/8ths

Monday, Wednesday, and Saturday: $5 off shake

Thursday: Free edible with donation

Friday: Food truck from 5-7p every Friday (donations expected)
Green Light Discount Pharmacy
Green Light Discount Pharmacy has been alive and well in the Los Angeles area for over a decade. Their products and service equate to a social equity polarizing enough to draw patient's continued patronage. Offering dispensary deals to Los Angeles patients who need the best medical marijuana is the ultimate form of compassion in a market of expensive medication, and Green Light Discount Pharmacy achieves this well.
The Deals
Save $50 off a top shelf ounce

10% off all vape carts

Get a half gram of wax concentrate with a gram donation

Buy two (2) get one (1) free edibles

New members receive a quarter for the price of a 1/8th after donation
Fast & Friendly
As you can imagine, the Fast and Friendly crew are quick, discreet, accurate, knowledgeable, enthusiastic, and, most importantly, in possession of amazing products. From oil, wax, shatter, flower, edibles, topicals, or tinctures, Fast and Friendly has just about anything a medical patient could need. Delivering both marijuana or marijuana-infused products and the best medical marijuana deals Los Angeles patients, this dispensary goes out of their way to be as friendly to the pocketbook as possible.
The Deals
Shake ounces for $99

Buy two Kiva Bars, get one half-off

Buy three oil cartridges, get the pen free!

Buy one 1/8th, get another of a different variety half-off!

Buy three (3) quad-dose cheeba chews, get one free

Buy 1/8th of Kurupt's Moon Rocks & get 0.5 grams free

Ten (10) grams of Alien OG for $100!
Buy and Save Green at the Same Time with Leafbuyer
Whether you are trying to find the nearest dispensary, looking for the best deals, or are curious about the rapidly changing marijuana industry, Leafbuyer.com has you covered. If you are going to be spending green to get some green, why not save some green while you're at it?