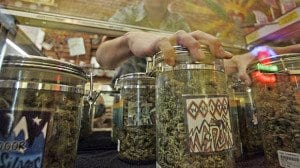 The "Wild West" days of the California pot industry may finally be coming to an end, as reported by the Huffington Post. In 1996, California voters elected to legalize medical marijuana. But since then, officials have taken hardly any action to standardize the industry.
In an attempt to lay some regulatory framework, the city of Los Angeles passed Proposition D last year, capping the number of citywide dispensaries to around 135; yet, there are currently 972 Los Angeles businesses registered as pot stores, according to Office of Finance representative Robert Lee.
Although it is illegal for unauthorized dispensaries to operate in Los Angeles, they can still apply for business tax registration certificates down at City Hall. Office of Finance Assistant Director Ed Cabrera told Council members, "Our activity is solely centered on identifying their classifications for tax purposes only." For that reason, the City Council has no authority when it comes to determining a business's legal status when it registers with the city to pay taxes.
This makes it difficult to determine the actual number of legal dispensaries currently operating around the city. Cabrera reports that 1,105 medical marijuana businesses have registered with the city, and 447 businesses filed tax renewals for 2015.
But many businesses seeking renewals and certificates never opened their doors for business or informed the city after they closed. Others, still, operated illegally even though they hadn't made the city's approved list of 135 dispensaries.
A recent Council meeting focused on new and more effective ways to keep tabs on dispensaries. Councilman Bob Blumefield suggested crowd-sourcing efforts, calling on the general public to inform the Council of known illegal pot shops in their neighborhood. Councilwoman Nury Martinez proposed changing the design of tax registration certificates so they can't be mistaken for a legitimate business license.
It's uncertain what the city's next steps will be in regulating Los Angeles's developing marijuana industry. And with recreational marijuana legalization on the ballot for 2016, it's adamant the city unifies its stance on non-compliant dispensaries.
Councilman Paul Krekorian argues the city can't continue to prosecute some dispensaries while issuing business certificates to others. "We have a significant disconnect here," he stated to the Council.