It's 2050 and you're hanging out on the island of Los Angeles, about 75 miles off the western coast of Nevada. California is now an independent country after President Dogg officially signed the Secession Act of 2037. The country's official plant is cannabis, and the California government commemorates that with a giant pot leaf on its national flag.
This comes as no surprise since marijuana has been California's biggest export for two decades. The cannabis industry is also the new country's biggest employer.
President Dogg has been a huge proponent of Mary Jane since he took office. He signed a regulation that incentivized flying car manufacturers to make their engines run strictly on hemp oil, and it has paid off in a huge way.
Without the heavy reliance on fossil fuels, California has become a peaceful nation. The ruthless oil barons of centuries past no longer control society. The cannabis industry leaders have revolutionized California and kept the country out of war since its inception.
The country's motto: Peace, Love and 420
It's mid-afternoon and you're getting hungry, so your personal AI robot Mr. Slippery dials the coordinates of the nearest In-N-Out Burger into your teleport device. Within seconds you are at the counter ordering a Double-Double with Animal Fries and a Canna-Shake. The burger and fries taste great as always, and the shake — infused with a healthy serving of the Jack the Ripper strain — gives you a nice cerebral boost to carry you through the rest of the day.
It's going to be a great night. You and two friends have tickets for the Lakers-Clippers game at Kush Leaf Arena (formerly the Staples Center). Kush Leaf was the third cannabis industry conglomerate to be awarded naming rights to a major sports stadium, after the High Times Arena in Denver and the Marley Natural Center in New York.
The best part about Kush Leaf Arena is the edible stand that sells the THC Infused Triple Chocolate Black Pepper Brownie by Baron's Confections. It's always a great treat that allows you to focus on the intensity of the moment.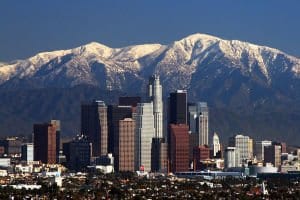 You wanted a seat in section 420, where joints are passed around throughout the entire game. Fortunately, Mr. Slippery was able to find three tickets in the third row, right next to President Dogg's luxury suite.
It's a close game, a nail-biter, and you'll probably be replaying that memory in your iBrain for quite some time. You might upload it into the cloud so future generations can enjoy a classic Lakers-Clippers matchup.
After the game, Hang Out at the Observatory
After the game, it's time to fly over to the Griffith Observatory for the Midnight Smokedown. This weekly shindig is free to the public, and it's a perfect night to enjoy a pre-roll of Gorilla Glue while staring into space. With all the new technology that's available, you might even be able to make contact with life forms three galaxies away and engage in an inter-galaxy 420 session.
There's a dispensary on the observatory grounds so you won't need to have a drone fly some fresh nugs in from downtown. The sky is clear and you can easily see Mars from where you're standing. From here, it looks like the millions that migrated to the red planet in 2039 have made some impressive progress toward building their new civilization. The first extraction lab on Mars just opened in 2048, so you're hoping to take a weekend trip there to take a tour sometime later this year.
The California economy is strong in 2050. Almost everyone has some role in the marijuana industry, and thanks to the newest technology, nobody works more than four hours per day. A full indoor grow cycle can be done in a matter of hours. About 85% of California citizens are cannabis growers, and everyone shares their crops with the neighbors.
There's a dispensary in the sky, about 400 feet above the Kush Leaf Arena, where recreational growers meet to share their crops and toke and joke and toke some more.
The business of LA cannabis
Fast forward to tomorrow morning, it's another beautiful day on Los Angeles Island. You have a meeting with the CEO of New York Cannabis, the largest marijuana company in the United States. No worries, it's just a 20-minute flight on your private helicopter, which also runs on pure hemp oil.
Thanks to the growth of the marijuana industry, most of the California population is incredibly rich and able to afford a reasonably priced helicopter. It makes traveling to and from the island a lot easier.
After returning from New York in mid-afternoon, you go straight to the Church of Willie Nelson for 4:20 mass. It's usually difficult to find a seat, so you use your hovering device to sit in the air, a few feet above the crowd. Like any other typical 4:20 service, the sermon begins with passing around giant bowls of Jesus Kush before the preacher sends his message of true, love and cannabis to all in attendance.
It's a heartfelt sermon that is both cerebrally stimulating and highly motivational. Society has really come a long way in the past few decades.
The service ends in the early evening, and now it's time to see a show. The destination is West Hollyweed, for a night of legendary comedians at The Comedy Store. Holograms of Bill Hicks, George Carlin and Mitch Hedberg will perform some of their classic material and then offer their own takes on California in the year 2050.
Pauly Shore Cola (with Cannabis)
It's going to be quite an event, certainly made better by the organic Pauly Shore Cannabis Cola that they have on tap at The Comedy Store bar.
Tomorrow it's back to work, for your job as an analyst at Mary Jane Analytics. Your task is to determine what strains are most popular among females, aged 23, that own one or more dogs and do google searches for cool new hiking spots on Tuesdays between 2:30 and 3:00 p.m.
Fortunately, the massive data that has been collected on cannabis usage over the past 30 years allows you to see that this demographic usually orders pre-rolls of Golden Pineapple Kush or Granddaddy Purple in concentrate form. Next, you'll look at all the biggest hit songs of the past decade and figure out whether they were written while the composer was high on an indica, sativa or hybrid.
At lunchtime, you go to the office cafeteria and grab a cannabis-infused Cuban sandwich. The company's Chief Operating Officer started allowing marijuana products to be sold in the building once analytics showed that employees are 20% more productive and 35% happier during the workday if they are able to consume some Mary Jane goodness.
This breakthrough discovery came about after a team of scientists found that professional athletes perform better and heal quicker when they introduce cannabis into their workout regimen. Nowadays, most gyms even have a cannabis-infused protein shake on the menu. The results speak for themselves.
In just a few weeks, it will be President Dogg's birthday. It's California's biggest holiday, a celebration of the hemp plant and its revolutionary effect on modern civilization. The island of Los Angeles is booming as it gets ready for a day of joy, brotherhood, and parades. You're operating the giant pot leaf float, which will come right after the massive inflated Woody Woodpecker.
My oh my, 2050 is a great year to live in Los Angeles.