FRANKFORT, Ky. — Lexington Herald-Leader reported that lawmakers have shelved a bill that would legalize medical marijuana as a tool to battle opioid addiction. Last Wednesday the House Judiciary Committee voted to put House Bill 166 on hold until a later date. Rep. John Simms, D-Flemingsburg, who is the sponsor of the bill, says he doesn't think the proposal will be revisited in this year's legislative session but says anything is possible.
The proposed bill would provide access to a non-opiate medicine effective in treating several illnesses including chronic pain, chemotherapy-related nausea, and multiple sclerosis without the dangerous side effects.
Both groups are strong opponents of the bill.
More Than 1,400 People Died from Opioid Overdoses
Sims told the panel that medical marijuana can help to fight the opioid epidemic in Kentucky, citing the drastic decrease in prescriptions written for opiates in states with legalized marijuana. Sims also told the panel that people from Kentucky are forced to leave the state to get the medical treatment they need so desperately, adding that he supports medical marijuana because research shows that medical marijuana is effective.
According to CBS News, a new report from the Centers for Disease Control and Prevention showed that opioid overdoses increased by 30 percent nationwide between July 2016 and September 2017.
More than 1,400 people died in Kentucky from drug overdoses in 2016.
The bill would require a physician recommendation and ID. A state-regulated dispensary will disperse the medicine if the bill turns into law. Public consumption would be prohibited, and local communities will have the option to prohibit medical marijuana in their communities with a vote. The licensing process would be regulated and there would be a state wholesale tax on medical marijuana and businesses.

Do the Right Thing and Give Them What They Want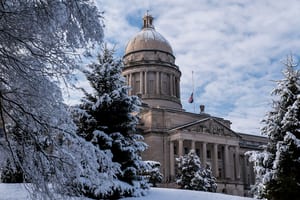 Democratic state Rep. Al Gentry is another supporter of the bill and told the committee to do the right thing by allowing the people in Kentucky access to medical marijuana that is a safer, more effective medicine than prescription opioids and to "give the people what they want," he said. Kentucky state Sen. Steve West (R-Paris) also testified in support of the bill.
House Bill 166 was legislation written as a result of a task force created by the Secretary of State Alison Lundergan Grimes. The task force held several public meetings before proceeding with the bill.
Medical marijuana advocates and patients cheered on the supporters speaking to the panel about medical marijuana in the crowded courtroom. President of Kentuckians for Medicinal Marijuana Jaime Montalvo told the panel that the bill was about sick and dying patients, not fun and entertainment, adding that legalizing medical marijuana the bill could help at least 150,000 people in Kentucky.
The bill has a bipartisan group of at least 20 members of the House as supporters who are now co-sponsors of the bill. House Bill 166 would permit patients with conditions including cancer, chronic pain, multiple sclerosis, and PTSD to have prescriptions for medical marijuana as an alternative to opioids.
Other communities in the state are voting on medical marijuana legislation as well. The Lexington city council had a unanimous vote in February in support of medical marijuana legislation. Louisville is also considering legislation, and Bullitt, Mason, and Maysville Countries have all previously passed bills similar to House Bill 166.