How Lightshade Changes the Way You View Cannabis

DISCLAIMER: Content in this article is for reference purposes and is not intended to substitute for advice given by a physician, pharmacist, or other licensed health-care professional. Always seek the guidance of your doctor or other qualified health professional with any questions you may have regarding your health or a medical condition.
One of the most amazing things about the cannabis plant is its versatility. No two strains create the same effect for the smoker. Spend some time with a group of 420 lovers and you'll often encounter a discussion based on the question, "What kind of high do you like?"
Where Diversity and Care Meet Quality
Do you like a racy head high? How about a relaxing body high? Do you use cannabis to fall asleep or keep you awake? Would you rather smoke some cannabis that will make you want to go for a hike or a strain that will keep you glued to the couch, such as Ghost OG?
Typically, cannabis is grouped into two categories: sativa or indica. Sativas, in general, are the more energetic, cerebral strains, and indicas are the "chill out" strains. However, every different cannabis breed has its own nuanced characteristics, and sometimes the two-party system doesn't account for this nuance. Lightshade, a Colorado-based grower, has offered its own antidote to this classification system. The company has grouped its strains across four categories of ambience: Awaken, Enliven, Calm and Rest.
Awaken
Awaken strains are sativas that can be used for euphoria and focus. Lightshade's Durban Poison is an example of an Awaken strain. This specific breed, which originated in South Africa, is described as "an absolutely soaring sativa that leaves the user feeling extremely clear-headed, energetic, motivated and positive." Lightshade recommends Durban Poison and other Awaken buds for daytime use, as the strain can provide a burst of energy while elevating the mood.
Enliven
Enliven strains are also sativas, and they tend to boost creativity and stimulate energy. They share many of the same effects as Awaken strains and as such are recommended for daytime use. Lightshade's Blue Dream flower is an example of the Enliven ambience.
This blend of blueberry and haze strains provides a head rush that is great for working on artistic projects. A graphic designer may try Blue Dream or another Enliven strain to generate ideas for an advertisement campaign. A marketing guru might pass around a joint of an Enliven herb for a brainstorming meeting to create taglines for a new product, and musicians could use this type of bud to fuel a creative jam session.
Calm
Recreational and medical cannabis users that are looking for relief should try Calm strains.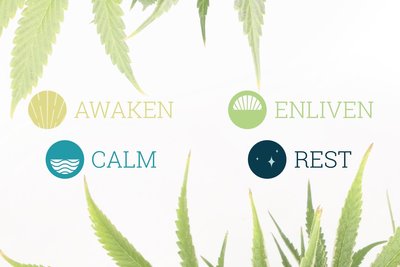 Lightshade uses this classification for indicas with soothing effects.
Calm strains are certainly not the best for an active day of activity or work are the Awaken and Enliven strains. Instead, they are usually best for nighttime use, potentially as an after dinner strain or to relax after a long day at the office or construction site. Lightshade classifies its Blueberry Headband flower as a Calm strain, due to the relief effects that occur after a few hits. The company specifically warns about the couch-lock syndrome caused by Blueberry Headband, which is a characteristic of Calm flowers.
Rest
Rest strains are employed as a sleep aid. A close cousin to Calm buds, they are specifically helpful to medical consumers hoping to relax muscles that prevent them from falling asleep. Recreational users that suffer from insomnia from time to time can also benefit from a Rest strain, perhaps when a pressure at work is keeping them from getting the shuteye they need to excel on the job.
Lightshade's Fruity Pebbles flower falls into this category as it "tends to put the user in an almost dreamlike state mentally, while the body feels warm and buzzy." The Colorado growers recommend Fruity Pebbles as an evening smoke, though in some instances a midday or afternoon toke of a marijuana strain classified as Rest can aid in reducing stress levels and soothing the nerves so that the user can finish their day on a "high" note.
Defined By Consistency Despite High Variability
No single cannabis strain falls 100% into each of the four categories created by Lightshade, and the company accounts for this by creating a circular graph where each category blends into the next. The circular graph uses different shades of green for the sativa-dominant Awaken and Enliven categories, and it switches to blue for the indica-dominant Calm and Rest varieties.
Upon visiting one of Lightshade's six marijuana dispensary locations in the Denver and Aurora areas, customers are encouraged to discuss exactly what they're looking for with a budtender and determine the strain that's right for them.
Of course, no one is required to stick with one strain or one effect. The user may purchase a gram of Blue Dream for daytime use and some Fruity Pebbles to help fall asleep or alleviate periodic symptoms of heavy stress. Perhaps the cannabis enthusiast brings an Awaken flower with them for a day of socializing with friends and throwing a frisbee in the park and keeps a Calm strain at home when they are ready to sit on the couch and enjoy a movie.
There's no right or wrong way to do it, but the team at Lightshade is dedicated to finding their customers the perfect strain to match the specific effects they are hoping to achieve when puffing on the magical green plant.