Let's get the obligatory bee pun out of the way first and foremost – cannabis infused peanut butter is the bees knees. Peanut butter and jelly make a great sandwich, but I personally enjoy a nice peanut butter and honey sandwich with a few banana slices on top. I'm sure that sounded pretty random and silly, but there IS a point, believe it or not. The new craze in the edible industry is Cannabis Honey (CannaHoney). CannaHoney is real, and it's a pretty amazing thing for the edible enthusiasts.
The cool thing about cannabis edibles is the fact that the industry is always trying to find new things to merge with cannabis. Cookies and candy don't cut it for everyone anymore, so they've dreamt up some pretty cool stuff. For example, we've been introduced to marijuana-infused buffalo chicken wing sauce, coffee, cannabutter, and cooking oil.
The new kid on the edible block is of course honey. Honey can be used for cooking and baking, a substitute for granulated sugars, along with many other medical uses. This is why canna-honey is such an amazing feat, and very attractive to medical marijuana patients.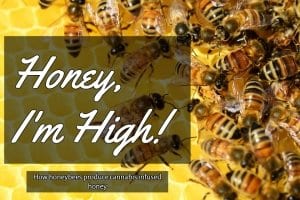 Let's start by going into how it works, and how the pioneer of cannabis-infused honey got his start. Nicholas Trainer was the first to produce honey from marijuana. Trainer got his start in the cannabis industry at a young age as he suffered with a hyperactivity disorder which forced him to drop out of school. To combat this hyperactivity, he began actively using marijuana for medical reasons by the age of ten. Since then, he's made a successful life for himself in France, where he keeps and trains honeybees, paints, and makes a living as a locksmith.
Over the years, Trainer wanted to figure out how to get his bees to make honey from the resin of flowering marijuana plants. He had already successfully taught his bees to collect sugar from fruits instead of flowers, and he felt that with time, he'd be able combine the bees with the marijuana plants to have them produce cannabis infused honey.
Trainer was successful of course, and his bees were completely unharmed since honeybees don't have and endocannabinoid system that makes them sensitive to marijuana in any way. Now he possesses over 30 beehives to create this honey. This is amazing because it's the first 100% all-natural edible that doesn't have to go through any extreme processing – you know, aside from the bee bodies.
Keep in mind that while this is the next new thing, it isn't going to get you crazy high. The cannabinoid analysis of a batch of cannahoney can be found here. Remember that it's intended to be ingested and it's for good health more than anything else.
As Trainer himself said, "Everything that passes through the body of a bee is improved. Resin obtained from trees and plants, including cannabis, is turned into propolis, which is an antiseptic, antibiotic, antifungal, and antibacterial. The bees will also use the resin from any strain, meaning there are almost limitless possibilities for creating different kinds of cannahoney.
You can check out Nicholas Trainer and his bees on his facebook page. If you're interested in learning about how bees make honey, check this out!
Have you tried Cannahoney? How did it taste? Let us know in the comments section below!
by Nicole Flanigan