In 2016, when voters in Florida backed the overhaul of their rigid low-THC compassionate use of marijuana program, residents in the state knew there would be some distance between the new amendment becoming law and when it'd be implemented fully. After all, billion-dollar industries don't appear overnight.
It's just…after the voter referendum passed in November, Florida's elected officials went to work changing the rules and, in their haste to propagate an outdated sense of public safety, seemingly moved to defy the will of the very voters who put them to work. Now, in their final weeks to decide on pot, the Florida legislature is keen on passing a workable amendment.
House Bill 1397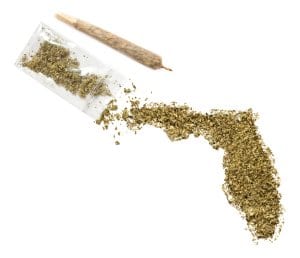 At 2:30 pm on May 2nd, the Florida House passed HB 1397 after nearly two months of adjustments. Having received overwhelming support (105 yeas vs 9 nays), the bill would make several — both positive and negative — changes to the voter-backed program. Here are some of the key changes under the HB 1397:
Removes the requirement that a patient see their recommending physician for a period of 90-days prior to being eligible for medical marijuana

Chronic pain will only be covered as an effect of a qualifying medical condition and not as a qualifying medical condition onto itself

Low-THC or non-euphoric forms of marijuana, such as CBD-infused products, can be used in public spaces yet full-THC cannabis products remain a misdemeanor if used in public by registered patients

Low-THC or non-euphoric forms of marijuana or marijuana product can now be used by pregnant patients, whereas previously they'd been banned from purchasing or using cannabis products during pregnancy

Whereas the state currently has seven (7) licensed growers, the Health Department would have to issue licenses to ten (10)

additional growers

by July of 2018, increasing by four licenses per every 100,000 patients thereafter

Several requirements for growers have been changed, including requirements for nursery size

Physicians must "prescribe" medical marijuana as they would any other medication, putting doctors in obvious risk under federal law

Caregivers are still required to take an exam before being fully registered to handle medical marijuana, but no longer are they required to pass it (the state wants information)

Marijuana cannot be smoked but may be used in an edible form or by vaporization
Is it perfect? Probably not.
Is it more than the program put in place in 2014? Yeah, sure. Is it what voters wanted? No; but also, kind of.
Access is still expanded as compared to the 2014 program and, under HB 1397, the number of dispensaries operating under a single grower's license is unfettered by limits – directly impacting patient access for the positive.
The rule stating smoking marijuana is prohibitive is somewhat countered by the fact public use of CBD-rich forms of medical marijuana would be acceptable public behavior, but requiring the medical professional to prescribe marijuana – while it makes sense if we want to strictly view marijuana as a medicine – deeply burdens physicians operating with their own prescription license (a program administered by the DEA). It would make doctors immediately out of compliance with their licenses, as they'd be actively prescribing a federally illegal narcotic.
While the Bill has passed the House and now sits in the Florida Senate, the 60-day legislative session ends May 5th and the Senate has their own bill which, unsurprisingly, also attempts to reconcile the voter-backed amendment into antiquated moral and scientific foundations. SB 406 is up for its first reading on the Senate floor on May 3rd, with little more than 48 hours remaining before a decision is expected.
However, the Sun-Sentinel reports the session may be extended due to budgetary actions which need to be addressed.