When it rains, it pours. Fortunately for Seattle residents, this is true for more than just the city's weather. There are some great clusters of recreational cannabis dispensaries in the city, areas where several pot shops are within a short walking distance of each other. An afternoon excursion to one of these areas will leave visitors in a sea of green.
Here are three neighborhoods with the greatest concentration of dispensaries in Seattle:
Aurora Avenue
Aurora Avenue is one of Seattle's major throughways, stretching north to south through the heart of the city. In northern Seattle, Aurora Avenue becomes a strip mall of pawn shops, hotels, motels, Dollar Trees and cheap gas. It also has some of Seattle's best recreational dispensaries.
Between 120th and 125th Streets are three cool pot shops: Seattle Tonics, Fweedom, and Mary's. These dispensaries are larger and more affordable than most downtown stores. Because they are pretty far north in Seattle, the overhead costs are slightly cheaper. Luckily, the savings are passed on to the consumer.
You can't miss Seattle Tonics. There's a big green sign that says "21+ Recreational," easily visible to drivers and passengers on Aurora Avenue. The shop's 2,000 square foot showroom has a huge selection of fine buds on display in glass cases. Its selection ranges from top-shelf greatness to plenty of discounted herb that still packs a punch.
Grams are on sale for as low as $5, and edibles are available starting at just $3. The store usually has kief-infused pre-rolls at a discounted price as well. The dispensary is attached to Seattle Tonics Gear & Glass for tokers looking to purchase a new pipe or other marijuana accessories.
As an added bonus, Aurora Avenue dispensaries have ample free parking. It's a nice break from the intensity of downtown pot shops, a stress-free way to pick up some herb in the northern part of the city. If you need to refuel on some munchies, there is a Krispy Kreme doughnut shop at the intersection of 125th Street and Aurora, and an Asian market filled with eastern delicacies just a few blocks up at 130th Street.
The Emerald Mile
In an industrial section south of downtown Seattle is a cluster of dispensaries knowns as The Emerald Mile. There are six pot shops currently in this area, which is just down the street from Seattle's baseball and football stadiums. Cannabis City was the first recreational dispensary in Seattle, opening on July 8, 2014. Dockside Cannabis has a marijuana museum inside the store.
Diego Pellicer is an upscale Mary Jane experience known as "the Versailles of Seattle pot shops." The store's interior is elegantly decorated with columns, floral arrangements, a chandelier and a sculpted statue. Diego Pellicer caters to the upscale cannabis enthusiast and its product offering is slightly skewed toward the top-shelf side.
There is a trio of dispensaries on 1st Avenue South, all within one block of each other. Green Fire is a combination dispensary and glass store. Ganja Goddess is Seattle's first female-owned pot shop, located inside the Vertigo building. It's an intimate atmosphere and the store gets filled relatively quickly, but customers like the down-to-earth vibe of Ganja Goddess.
Vela, on the other hand, captures the high-end feel with its ultramodern design and a spectrum light that serves as a visual aid for describing the effects of different strains. The Vela Spectrum breaks the marijuana high into four categories — hush, unwind, flourish and ignite — and the budtenders suggest different strains to the customer based on their preference.
Vela also hosts a monthly showcase of emerging Seattle artists known as High Art. Visitors to the pot shop can take a peek at Field Day's grow room and Suncliff's extraction labs in the same building as Vela for a full marijuana experience.
The Emerald Mile is the perfect place to stop before or after attending a Mariners or Seahawks game, or while visiting Seattle's historic Pioneer Square district. It's also a quick drive from downtown Seattle, so visitors to Pike Place Market and business travelers staying in downtown hotels might find The Emerald Mile pot shops the most convenient to reach. Ganja Goddess offers a free shuttle service from various pickup locations, seven days a week.
Fremont
Fremont is a beautiful artsy district north of downtown, on the other side of Lake Union. It's a great place for a stony afternoon. The neighborhood is home to breweries, coffee shops and restaurants.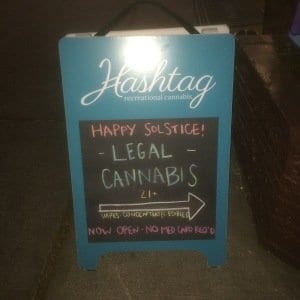 The nearby Gas Works Park is one of the city's must-see attractions, with a giant gasification plant (now out of operation) and some great views of Lake Union, downtown and the Space Needle.
Fortunately for cannabis enthusiasts, there are three pot shops in Fremont. OZ is one of the oldest dispensaries in Seattle. It's open 363 days per year, closing only on Christmas and New Year's Day. Have a Heart is a chain with six locations. Its 36th street store is in a happening area, near the live music venue Nectar and several bars that are a nightlife draw for Fremont residents. It's across the street from Piece of Mind, a popular head shop.
Hashtag is a classy destination on Stone Way, just south of OZ. Visitors will recognize the colorful fish paintings on the shop's exterior. There's a great coffee shop called Stone Way Cafe on the same block, under the same ownership as Hashtag.
Along with OZ and Have a Heart, Hashtag is an easy walk from the corporate offices for Tableau, Google and Adobe, so tech workers can enjoy an easy lunchtime or after-work stroll to pick up some heady goodness for the weekend.