With its progressive politics, limitless entertainment options and cannabis-friendly atmosphere, Seattle is an amazing place to live for lovers of the magical green plant. The tech industry is a huge draw for locals and out-of-towners alike, but there's a new game in town: the exploding cannabis community of the Pacific Northwest.
Seattle is full of marijuana professionals, from dispensary owners and budtenders to extraction experts and venture capital firms. The town's creative and entrepreneurial mindset complement the burgeoning cannabis gold rush, and it's a great time to look for a new job in Seattle's Mary Jane sector.
If you're thinking about trying to become a part of the best cannabis jobs in Seattle, first check out the Leafbuyer jobs board! Scores of cannabis businesses like dispensaries, cultivators, and ancillary companies, post open positions every day. To be even more aggressive in your search, look into these options too:
Cannabis-Tech Meetup
Meetup.com is an incredible resource for newcomers to the Seattle area looking to make new friends and explore the city. It's also a great tool for networking purposes. The Cannabis-Tech Meetup hosts regular events for marijuana enthusiasts to become acquainted with each other and share their big ideas.
Over 1,100 "Cannatrepreneurs" are involved in joining Seattle's top-shelf tech industry with its rapidly expanding Mary Jane business. The group gets together to explore the nuts and bolts of cannabis technology in Seattle and build connections with like-minded individuals through conversations about such topics as extraction techniques and brand-new smartphone apps.
Nightclubs like Club SUR and Seamonster Lounge host Cannabis-Tech events, which include food, drinks, presentations and networking opportunities. Cannabis-Tech has formed partnerships with local companies Vuber Vaporizers, Lazy Bee Gardens and Kush Tourism to enhance the overall quality of each meetup.
Seattle Times and online tech publication GeekWire have praised the Cannabis-Tech movement, and group members find the meetups fun and informative. It's a great opportunity to pass around some business cards and form relationships with your future colleagues.
Trade Shows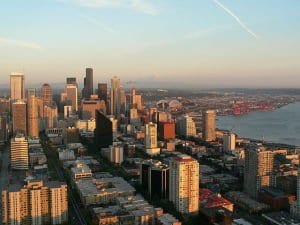 If you want a job in cannabis, make yourself seen at industry trade shows. There are multiple yearly events which feature panel discussions, vendor booths, and seminars. The trade shows typically set aside time for a cocktail hour, which doubles as a chance to introduce yourself to the panel speakers and presenters.
The traveling event CannaCon came to Seattle for its third annual event in February 2017. The three-day extravaganza drew thousands of marijuana professionals and engulfed two large floors of the Pier 91 Smith Cove Event Center.
CannaCon hosted a variety of vendors from all around the country including Surna, a producer of climate control systems for indoor grows, and Treatibles, who was there to show off its new CBD chews for dogs. There were large-scale extraction machines, seminars on how to start a cannabis enterprise and classes for budtenders. It's easy to stroll through the CannaCon floors and make conversation with successful cannabis entrepreneurs.
Prepare to share your story and hand out a few resumes or business cards. It could lead to the dream job you've been looking for.
The Cannabis Alliance
The Cannabis Alliance is the brainchild of four large Washington cannabis non-profits. Its mission is to discuss and promote best practices in business, ethics, agriculture and beyond for the marijuana industry. The group educates policymakers on key issues and is an advocate for sustainability and fairness in regulatory decisions.
It hosts the Washington Cannabis Summit, an annual full-day event that includes panel discussions, educational seminars and plenty of opportunities to meet marijuana professionals from the Seattle area.
The Cannabis Alliance offers three membership packages for interested parties. Its Bronze membership costs $20 per month and includes voting rights in organizational decisions, invitations to VIP gatherings, monthly business mixers and a listing in the company directory.
The Alliance also welcomes volunteers to join its policy, regulatory, education, events and communications committees. Hint: volunteer fundraising for The Cannabis Alliance would look pretty good on your resume if you're thinking about pursuing a full-time career in the marijuana industry.
Privateer Holdings
Privateer Holdings is a Seattle-based venture capital firm devoted to the cannabis industry. The company owns Tilray, a medical cannabis research and production facility, as well as the website Leafly and growers Marley Natural. A quick perusal of the Privateer Holdings careers page includes postings for openings in the company's creative, finance, legal, marketing, operations, product development and sales departments.
How would you like to be the Lead Designer for a marijuana venture capital firm? What about an events coordinator, field sales representative or staff accountant? If you have the qualifications to excel in any of these vocations, you might as well do it in an industry you're passionate about. The Privateer Holdings website is worth checking from time to time; the right opportunity could pop up any day.
If you love weed, why not walk right into a dispensary and introduce yourself? The in-person intro will put you at the front of the line for budtender and retail management gigs, which are a nice foot in the door for the cannabis industry. The dispensaries are also connected to countless distributors, growers, tech and logistics companies that serve the industry.
You never know what a friendly conversation with your budtender could lead to. So talk it up when you're ordering that fresh batch of Golden Pineapple or Bruce Banner, and let one thing lead to another.
LinkedIn
Don't forget to go back to the basics. A quick search on the LinkedIn website for "cannabis Seattle" will reveal some of the local industry's biggest players, and you're just a click away from connecting with them. If you have a 2nd generation link to a cannabis professional, don't be shy. Ask your mutual connection to set up an introduction, and then request an informational interview.
LinkedIn is also a great place to learn about what types of jobs people actually have in the marijuana industry, so that way you'll know what to look for. Create a LinkedIn network of editors at cannabis-related online publications, activist groups, non-profits or business thought leaders and you will be that much closer to discovering your true calling in the industry.
If you're set on entering the world of Mary Jane, make sure to update your LinkedIn profile to reflect that before you go off and start mingling. Even a simple change of your headline to "Cannabis Industry Professional" is an important step.
In the summary section of your profile, talk about your passion for the hemp plant and how it has led you toward a new career. And always remember: you're someone to know. People should network with you because you're in the thick of it, and maybe someday you can refer them to a potential new client or colleague.
Job Boards
Of course, there is always the online job boards: Indeed, Monster, etc. A simple search for "cannabis" with the location set to "Seattle, WA" will yield a comprehensive list of positions from sales executives to budtenders, account managers, and growers. There are also some cannabis-specific job boards that are worth checking out such as WeedHire and 420careers.com.
Lastly, don't sleep on Craig's List! The Seattle version of the site is loaded with new jobs and it's constantly updated with new entries. Just head over to the Jobs section and type "marijuana" or "cannabis" into the search query box.
There are postings for retail professionals, trimming jobs, graphic designers, bloggers and more. Surely, you will find an opportunity worth exploring on Craig's List. Now get out there and become the cannabis professional you always dreamed of being!