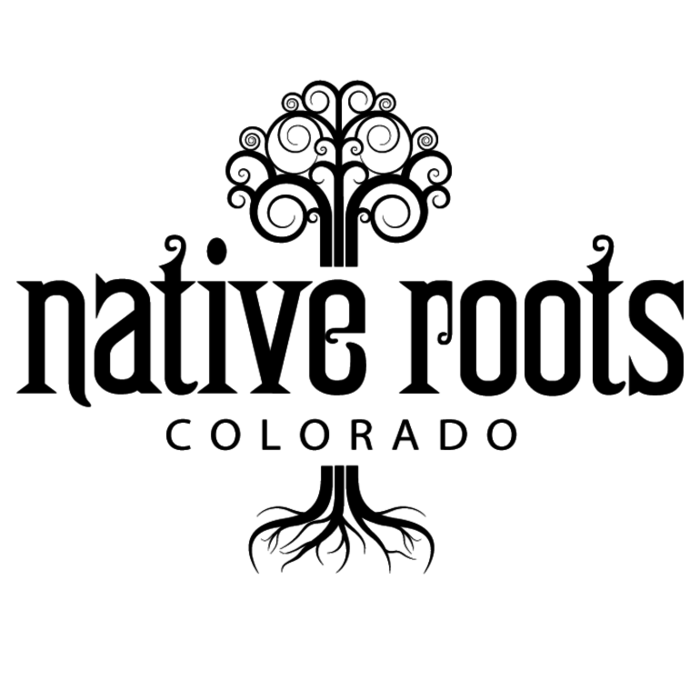 As of 1 December 2016, there are a total of 2,916 licensed marijuana facilities in Colorado — meaning retailers, manufacturers, cultivation operations, and product testing facilities — within both recreational and medical markets. The state of has no limits on how many licenses can be issued, though counties may choose to limit — or ban — such businesses from existing under the State Constitution. Of the licenses that are currently held in the state, one-third are establishments that sell to consumers.
With the state industry generating over $1 billion in sales revenue annually in legal cannabis sales, the matter of being in the right place is paramount to the success of a dispensary. Whether this is the geographic location or the place in the customer's mind, consumers are drawn to dispensary deals. In Colorado, I actively seek out sales, discounts, reward point systems, or giveaways before choosing the dispensary I shall give my dollars and (I suspect) I am not alone in doing so.
Just as liquor stores can differentiate themselves, yet, ultimately, they all sell alcohol, marijuana brands face extremes of competition in establishing themselves beyond the call of providing marijuana, a product that, seemingly, is insensitive to changes in price. Mimicking liquor stores once more, marijuana retailers often carry a variety of manufactured brand of edibles, vaporizers, drinks, and other products that seem almost ubiquitous to the Colorado cannabis market. While the tug-of-war for market share in Colorado continues to be met with new, evolving regulation, the sales have only grown. In the current landscape, prices vary from business to business — a problem Native Roots not only addresses, they exceed — touting some of the highest quality products, an unrivaled consistency, and some of the best dispensary deals in Colorado.
Meet Josh Ginsberg
Native Roots CEO Josh Ginsberg has led the brand to a position that dominates in both sales and quality. Beginning his foray into the cannabis industry with the purchase of The Dandelion in Boulder in 2010, the brand has merged, maneuvered, and otherwise dictated form and etiquette within the strictest levels of compliance in Colorado medical and recreational cannabis markets. Compound Ginsberg's zeal for consistency with private backed investment and a brand built around quality, the business has transmuted, with Ginsberg and the Native Roots brand holding around 5% of the total licenses in the Denver area, into a multi-level chain, complete with several corporate offices and more than 600 employees across the state. As much of the company growth is spurred from acquiring smaller operations — including grow and infused-produced manufacturers that have a difficult time keeping up with the pace of regulation and the cost of licensure — Native Roots has continued to evolve strategy and utilize resources from past owner structure.
And this sort of vertical integration (having the entire means of production: from grow to the consumer sales) minimizes the costs placed on businesses on the transfer of product, allowing for company practices to be standardized throughout the entire production and manufacture process and further brand development and expansion. As an example of how much Ginsberg trust the strength of Native Roots, and anticipates continued growth, the company has taken steps to get naming rights of Broncos home stadium, currently managed by now-bankrupt Sports Authority.
A Deal for Every Location
A perk of Colorado's medical and recreational grow licensing structure is it is specific to a property location. While maintaining the same brand means you can share and refine plant genetics across the company, the individual licensing of individual grows allow for all Native Roots to all choose different strains to grow at different times. Using their tissue-culture labs, Native Roots can give the same genetics to each plant, so regardless of which location you stop in at you know what effects to expect with each strain. With medical plant counts associated with patient volumes, variety is subject to fluctuations in supply, an issue that recreational markets run into less as their plant count is associated with the type of license. This leads to two types of deals being offered: company wide and local, neighborhood.
The Edgewater Native Roots dispensary deals in a Colorado municipality that allows sales until midnight, five hours later than Denver County, two hours later than Aurora, and two hours later than Boulder for comparison. While this may drive some of the sales bolstering the city's haul of taxes, the fact remains: Native Roots has (a) Daily medical and recreational deals (b) Company wide sales and promotions (c) Store specific specials and discounts. That is three ongoing and constantly evolving promotional structures pass savings directly to the consumer. Take a look at the recreational daily deals they offer compared to medical daily deals:
EDGEWATER REC MENU BROCHURE (12/26/2016)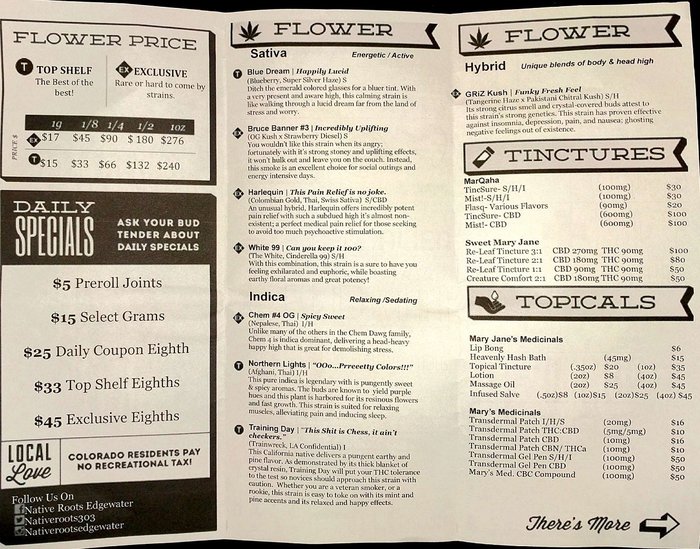 Boasting an organized layout, describing the taste, aroma, and effects of strains currently available as well as the cost and categories of everything from edibles to grinders, the menu compliments the experience. I am all about those $5 dollar prerolls.
As a different means of promotion, if you are a Colorado resident, they will pay the state sales taxes on your behalf, saving you dollars just for residing on a particular square of earth.
EDGEWATER MEDICAL MEMBER DEALS (12/26/2016)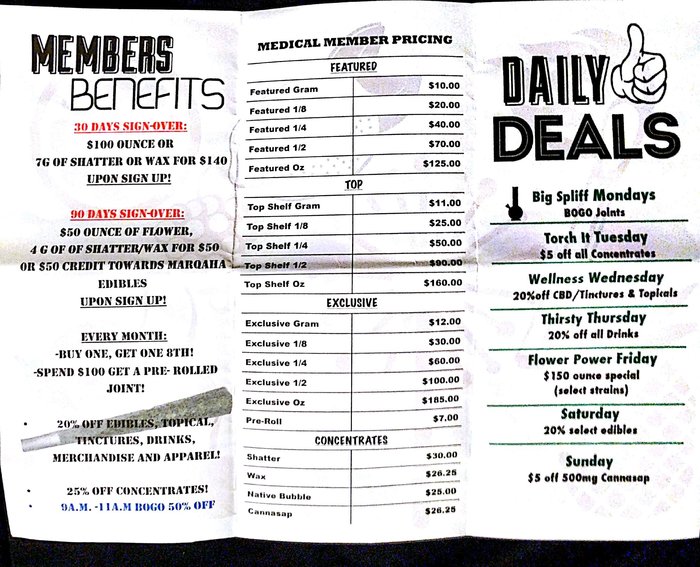 The medical daily deals extend to anyone with a medical card. For those who choose Native Roots to be their caregiver are allowed access to lower pricing on edibles, tinctures, topicals, and drinks in addition to monthly BOGO 1/8ths. Dispensary deals in Colorado vary, yet BOGO joint Monday is one of the most cost effective way to get some ground flower. As a medical member, you get access to 20% off edibles and such at any location, yet you can only redeem the daily deals at the location your plants are signed up at.
The newest addition to the Native Roots family, the Highlands store is doing a different promotion: Happy Hour. Dispensary deals in Colorado have increasingly become creative, but this daily promotion, beginning at 4:20 pm includes specials on flower, concentrates, and even specific product brands. For instance, you buy any one of the Native Roots Cannasap products, get an N-pen for $.01. How about buy four get one free on shatter and wax? In addition to these great promotions, the company pre-weighs 1/8ths so you can mix and match your way to an ounce or anywhere in between.
While you can check many of these promotions out in the store, Leafbuyer.com aims to bring you exclusive deals from the dispensaries you are already going to. Our partnership with Native Roots continues to grow, leaving us with exclusive coupons and discounts. Want a $20 dollar 1/8th? How about a $70 dollar half-ounce? How about $20 off a purchase of $100 when the Broncos win? In addition, you can check out menus, reviews, and location specific information as well as browse strain descriptions all on our site, Leafbuyer.com. When looking for dispensary deals in Colorado, Leafbuyer has the savings.
The Gas & Grass
As if garnering cultivation awards and sales success wasn't enough, Native Roots dispensary deals within Colorado Springs a bit differently. As the city does not allow recreational sales, all of the company facilities there are medical. Native Roots seized an interesting — albeit unusual — opportunity in El Paso County: combined medical marijuana sale gas stations (Is this the future of full-service?).
Functioning both as the Americana fuel-up convenience store and a medical dispensary has its own challenges, like a separate entrance, yet Native Roots prides itself as an innovator and, well, can you disagree?