The annual 420 celebration has once again come and passed, leaving consumers dazed by deals as the cannabis industry further normalizes its place in the culture and economy. Though the day of celebration and protest has ended, the legacy it left behind in 2017 included two firsts — each an innovation in its own way — under Colorado's marijuana laws.
Tumbleweed Express – The World's First Drive-Thru Dispensary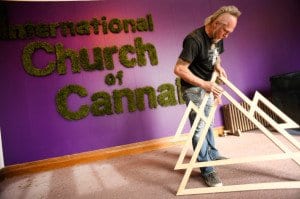 For those of us who have been testing out the variety of strains, edibles, topicals, and hash oil products available on the market, sometimes having to wait in line at a dispensary is a bummer. Even more, people forget that not all cities allow the recreational sale of marijuana. For those passing through or living in a (sort of) dry county, not only is purchasing marijuana legally a drive out of town, sometimes finding a place open late — especially in the busier summer and winter months — in western Colorado was almost entirely unrealistic.
The Tumbleweed brand serves the cities of Edwards, Eagle-Vail, Frisco, and Parachute, Colorado. While their operation continues to grow, CEO Mark Smith used the cultural rally cry of 420 to debut the coolest Colorado dispensary to open in recent memory: a drive-thru dispensary in the small town of Parachute, Colorado.
Engineered as a first-of-its-kind dispensary, the Tumbleweed Express is a custom drive-thru built in a repurposed car wash. To be in compliance with state law, the drive thru is set up where you pull-in rather than pull-through and no person under 21 can be in the car (including children) while in the cannabay. Located at 258 S. Rail Rd., Parachute, CO 81635, Tumbleweed Express is open from 4 p.m till midnight Thursday thru Sunday.

Located between Grand Junction, where recreational dispensaries are not currently permitted, and Glenwood Springs, where sales end at 7 p.m., the drive-thru hopes to capture the late and weekend crowds. Due to these regional legal differences, the city of Parachute has been able to capture enough sales to generate nearly a third of its annual sales tax revenues with marijuana sales alone, in addition to increased traffic to local restaurants and businesses.
Elevation Ministries & The International Church of Cannabis
Truly one of the most innovative grand openings in 420 history, Elevation Ministries and the International Church of Cannabis opened doors on 4/20/2017, celebrating with three days of worship, sacrament (aka weed), documentaries, comedians, and community. Designated as a nonprofit religious community in a residential area, Elevation Ministries is currently operational under one of the more grey legal areas of both Colorado marijuana law and federal religious protections.
Elevation Ministries doesn't believe that religion is to be experienced in any one way; each individual has cultivated and possesses their own way of grasping the world and they believe the use of cannabis allows for a more reliable establishment of the individual "higher self," beyond the threshold usually available without the sacrament. While giving cannabis a much-needed departure from a simple recreational intoxicant, the perspective of Elevation Ministries, and their "Elevationists" movement, allows cannabis to waywardly transcend the social fortitudes of a giggle-wrought food-drenched activity and instead relegate the activity to the spiritual.
The spiritual use of cannabis was first recognized in the ancient days of the Hindu Vedas, a religious text referencing cannabis as a spiritual catalyst dating to nearly 4000 years ago. While Elevation Ministries was hardly the first to see the religious potential behind the cannabinoid-infused experience, they have certainly breathed new life into the concept in a way which is implicitly more social and experience-building than smoking at home and meditating could ever be.
Located in a more than a century-old church in the West Washington Park neighborhood, the International Church of Cannabis looks like a traditional place of worship on the outside with one major difference: murals from one of California's most famous mural artists, Kenny Scharf, cover the doors and surfaces of several of the public-facing sides of the religious center. Astral vibes and galactic humbling buzzes around the 113-year old church, standing in contrast to the expected type of art on or around a place of worship and adding an immediate sense of curiosity.
On the inside, Spanish artist Okuda San Miguel has transformed the place of worship into a riveting showdown of bright and eccentric colors in geometrically designed anthropomorphic symbolism resembling animals who unabashedly gaze upon you in a spirited and psychedelic sort of way. As the church is zoned as a religious organization and a single residence, the use of cannabis on a property is 100% permitted by those who are on the property.
While Denver county struggles to implement Ordinance 300, a voter-backed plan to expand social use of marijuana in the city, the Religious Freedom Restoration Act of 1993 and the idea of private residential property allows this recognized religious community to allow the use of cannabis – a federally illegal drug – as a form of spiritual practice and tradition. While the church is available and open to any and all who wish to walk through their doors, to ensure they are legally covered, the burning of the sacrament will only be done under invitation for the time being.
For more information on Elevation Ministries, click here.