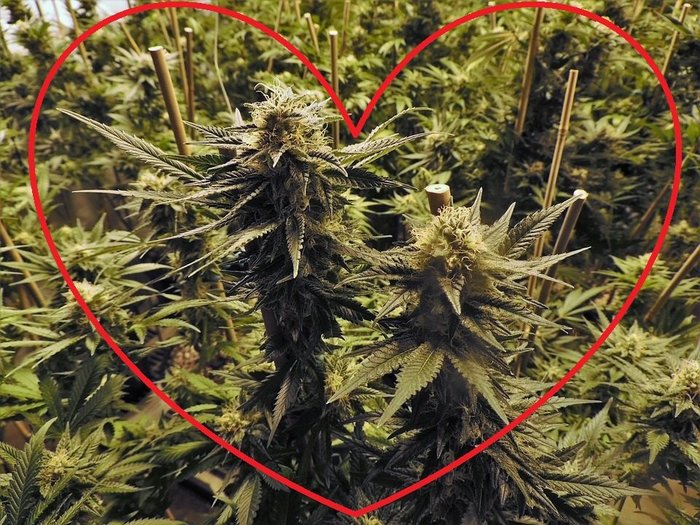 Everyone knows that the best kind of Valentines Day flowers are green (or purple), not red. Cannabis or cannabis products are the perfect gifts for any occasion, may it be flower, concentrates, tasty edible treats, lotion, smoking accessories, etc. Pair your Valentine's Day meal with flavorful flower or extracts. Enjoy dessert with a "special" ingredient. Relax using cannabis-infused lotions or salves. Here are some of my picks for best Colorado Valentine's Day weed gifts:
Roses are red, violets are blue, weed is the perfect present – for me and for you!
Flower
Ditch the bouquet in lieu of an eighth of marijuana flowers instead! Roll up some joints to enjoy together – if you can roll a tulip, now is the perfect time! If you prefer glass, perhaps your valentine is in need of a new piece to go along with the nugs. I recommend the Neverland or Grimace OG from Boulder Wellness Center; the Cannatonic or Pachamama from Helping Hands Medical. Willie Nelson has his own brand of marijuana flower strains available, Willie's Reserve. This would be a fun novelty bud to try!
You've got your flowers, now it's time for some candy to go along with it. Traditional Valentine's Day candy seems so unimaginative once you've eaten cannabis-infused candy or baked goods instead. Be on the lookout for dispensaries that do special deals on edibles for Valentine's Day! Sweet Mary Jane makes a few delicious heart-shaped sweets, aptly named, "Love at First Bite, "French Kiss", "Key to My Heart", and "Peppermint Crush", respectively. These are variations of a chocolate or white chocolate truffle in different flavors – try them all, they all sound delicious:
Love at First Bite – "An explosion of flavor! This hand made dark chocolate heart is bursting with creamy butterscotch, salty potato chips, crunchy pretzels, and a pinch of espresso."
French Kiss – "Fluffy, buttery homemade french toast drizzled in rich maple syrup with a dash of cinnamon."
Key to my Heart – "Handmade tart little white chocolate hearts filled with graham crackers and natural key lime oil."
Peppermint Crush – "Sweet, creamy and cool. White Chocolate hearts studded with peppermint starlights"
Also try the True Confections from Sweet Mary Jane, they are making a special Valentine's Day edition with a red-accented white chocolate! The True Confections chocolate peanut butter pretzel is described on their website as, " A handmade delight that hits the salty and sweet nail on the head with a peanut butter-filled pretzel wrapped in a cloak of dark chocolate and drizzled with white chocolate". From Love's Oven bakery, try the red velvet cookies, or to stay on our theme of heart-shaped edibles, there is always the the rosemary cheddar crackers, also from Love's Oven, "A delicate, savory cracker baked with premium herbs, spices and cheddar cheese that is un-crackin' believable!" Love's Oven edibles are particularly great, because they are available strain-specific!
What better name for a Valentine's Day concentrate than Concentrated Love? Give the Wonder Woman shatter or Space Cream wax a try! From Bolder Extracts, there is the Shire Krush live resin, avail able at The Honey Cellar in Boulder. If you have not been there yet I highly recommend checking them out for the best selection of concentrates all in one place. Stop in on weekends for special deals! Boulder Wellness medical side also has a wide variety of in-house strain concentrates to select. Give the Mango Land shatter a whirl!
Apothecanna is my favorite medicinal cannabis lotion, both for the effectiveness and the great-smelling/quality ingredients. Mary Jane's Medicinals makes a great cannabis lotion, in addition to a salve, chapstick, and massage oil. Any of these would also be a great way to unwind with your partner on Valentine's Day. If you're feeling frisky, there's always Foria pleasure, cannabis infused lubricant, as well as the newly-available Foria Explore, an anal suppository. Check out their website to find out more information, as I have not tried that one, haha. Foria products are also available at Boulder Wellness medical.
With so many cannabis products on the market, if you decide to buy your Valentine a cannabis-infused gift, you may feel overwhelmed. Use your intuition and base it off of what they like, or maybe something new that you think they would like. There are so many chocolates in various flavors, you can always buy a Blue Kudu or an Incredible bar. Incredibles chocolate bars alone have a great flavor selection – try the affogato or the cookies and cream. For baked goods, anything from Love's Oven or Sweet Mary Jane will make the perfect gourmet cannabis pastry! Roll up something rather than buying a pre-roll – this will make your Valentines smoke session more personal. Most of all, treat yo-self! Don't forget to pick up yourself something yummy ?
Alexandra Miller