In an effort to prompt changes in federal law regarding cannabis, Dr. Sanjay Gupta wrote an open letter to U.S. Attorney General Jeff Sessions telling him that cannabis saves lives and advising him that there was no time to lose in making cannabis available to those that need it, according to CNN.
The strongly worded letter was published Tuesday and provides the findings of Gupta's global research on medical marijuana to the attorney general. The letter requests that Sessions change his mind regarding the drug, as Gupta did himself, and provides Sessions with the evidence that marijuana can help to save lives.
The country is currently suffering from an opioid epidemic, with 45,000 people dead from an opioid overdose last year and 115 people dying daily. Dr. Gupta cites a medical marijuana study conducted by the National Institute on Drug Abuse that found there was more than a 20 percent decrease in opioid fatalities in states with a legal and regulated medical marijuana program, a fact that researchers were surprised to learn.
Medical Marijuana Could Save 10,000 Lives Every Year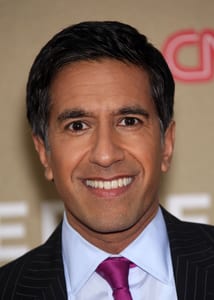 Dr. Gupta writes that the data indicates medical marijuana could save more than 10,000 lives every year. Gupta goes on to advise the attorney general that there are three ways medical marijuana can save people and help to end the opioid epidemic.
First, he says that marijuana is an effective pain reliever, which decreases the need for prescription opioid painkillers. He also says that marijuana treats pain in a way that traditional painkillers can't because marijuana reduces inflammation quickly.
Second, marijuana can significantly decrease opioid withdrawal symptoms, which can help opioid addicts to detox. Third, compounds from marijuana can actually heal the diseased brain tissue caused by opioid drugs.
Dr. Gupta says that the plant's compounds can help to break the cycle of addiction and that there is no other substance known to man that can accomplish all that marijuana can, adding that if scientists had to create a medicine to end the opioid crises, it would look like marijuana.
The Proof's in the Puddin'
Gupta says that the facts are the facts, and he has seen marijuana help people stop taking opioids by replacing them with marijuana with his own eyes over his 5-year-long journey studying medical marijuana.
The doctor describes meeting patients like Doug Campbell, who had been to drug rehab more than 30 times before trying medical marijuana. He continually failed to stay off opioids until he started using marijuana, which significantly decreased his cravings for opioids and now keeps him from relapsing.
Dr. Gupta writes that opioids significantly damage the brain's glutamatergic system and negatively affect judgment, decision-making, learning, and memory. That area of the brain is damaged by opioid use, which is why addicts can't abstain from drugs and eventually relapse. Dr. Gupta also cites the mountain of evidence proving that medical marijuana can treat epilepsy, cancer, multiple sclerosis, and a multitude of other illnesses and diseases.
The public attitude about marijuana is quickly changing. Physicians and politicians alike who were formerly opposed to marijuana are hopping on the Mary Jane train.
Former U.S. Speaker of the House John Boehner said that 94 percent of Americans support at least some form of medical marijuana in a recent press release revealing that he has joined the board of a marijuana company. A poll conducted by the Pew Research Center found that more than 61 percent of Americans think that marijuana should be legalized.
CNN will air a documentary with their Chief Medical Correspondent Dr. Sanjay Gupta on April 29 at 8 pm Eastern time called Weed 4: Pot vs. Pills.