Cannabis-infused products have exploded in popularity as the stigma of marijuana begins to clear up and disappear.
As the plant's healing qualities are becoming more apparent, cannabis skin care products are increasingly chosen for their therapeutic benefits.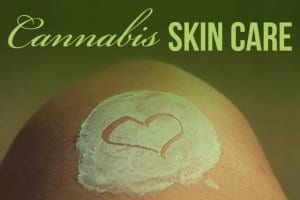 Absorbed through the skin, topicals are cannabis-infused lotions, oils, and balms that are proficient at treating skin reactions and conditions, like eczema or psoriasis, all the way to the chronic ailments of pain, soreness and inflammation–among other things.
Our bodies process cannabinoids through transdermal absorption, and even if a topical contains THC, it still won't induce that same high from smoking or orally ingesting cannabis. But the cannabinoid making waves in the current market for cannabis skin care products is CBD.
It's the main actor in hemp oil that's responsible for providing effective solutions for many skin-related ailments. Hemp oil is a multipurpose product that can be used to moisturize, treat acne and cramping, and for anti-aging purposes.
Hemp Oil for Skin
CBD, or cannabidoil, is extracted as oil from the cannabis plant. It is processed from hempseed and contains little to no THC, and a relatively higher concentration of CBD.
Obtained from the stalks and stems of hemp, this powerful cannabinoid is praised for its medicinal properties as an anti-oxidant and anti-inflammatory compound, and is legal in all 50 states, as long as its THC level is under 0.3 percent.
Unlike THC, CBD is a non-psychoactive compound found in the cannabis plant, and is usually found in high concentrations, along with its cannabinoid partner THC–which is psychoactive. The reason for CBD's inability to bring about psychoactive effects is rooted in its lack of attraction to the CB1 receptors that allow one to experience that cerebral high. Instead, CBD has an affinity for CB2 receptors, which are located mainly in immune cells.
This is responsible for making CBD a great solution for localized pain and inflammation relief. CBD comes without the fogginess of a head high and for this reason many who are looking to take advantage of the healing powers of cannabis will turn to it.
So what are the applications for cannabis skin care products?
Acne: A common problem among adults and teens, it is caused by an overproduction of oil that is meant to protect the skin. Blemishes, impurities and clogged pores caused oil build-up are mitigated when using hemp oil for skin care. CBD has proven effective in limiting lipid production in cells–the main culprit for excess oil production.
Anti-Aging: The endocannabinoid system is integral in the life cycle of cells. This is the human body's internal network of receptors that process cannabinoids. One of those cannabinoids, CBD, can help mitigate those aging effects by bonding with CB receptors throughout the body.
Anti-Inflammatory: Inflammation causes arthritic pain. CBD works to sooth the body's tension and help the user wind down after an intense work out. This makes CBD such an effective remedy for reducing muscle and joint pain.
Dermatitis: Skin conditions like Eczema have shown to be effectively treated by hemp oil. Psoriasis has also been shown to be treatable by the CBD in cannabis skin care products. CBD helps the cells regulate new growth, which helps combat extreme dryness and eliminating dry, itchy patches.
Nutrition: Using hemp oil for skin can also add well-needed nutrients to your daily beauty regiment. Hemp oil is rich in omega-3 and omega-6 fatty acids, which provide moisture and protection from the sun, in addition to offering the health benefits of amino acids. It essentially offers the same benefits as commonly used fish oil and can strengthen skin, as well as hair, cuticles and nails
The extensive spectrum of skin-healing applications offered by CBD means that there are a wide variety of cannabis skin care products on the market today:
Most cannabis skin care products are applied directly to the skin, including lotions, creams and ointments. Commonly referred to as topical, they are typically administered for some type of to treat dermatitis or an anti-inflammatory purpose. Products like Apothecanna Cherry Balm treat irritated skin.
Face scrubs and body washes are also terrific options for anyone looking to benefit from cannabis skin care products. Items like Marley Natural Hemp Seed Body Wash nourish the body while hydrating skin.
Extras on Cannabis Skin Care:
Products made from high CBD strains make for the best strains to extract from.
Along with THC and CBD, producers may also add ingredients and essential oils for additional relief, such as wintergreen and lavender.
Without psychoactive effects, cannabis skin care products are a good alternative to edibles and smoking.
Smoke itself can be damaging to the health of one's skin. Switching to edibles or CBD alternatives may improve skin health.
Cannabis skin care product can be a multipurpose instrument in anyone's personal hygiene tool belt.
by Diego Felix