CBD Living Water helps you take control of your health, relieve stress, and promote wellness. A no-taste, nutrient and CBD-enriched water guaranteed to deliver all the benefits of CBD in a zero-calorie, sugar-free way. Up the game of your water!
Cannabidiol, also known as CBD, is the second most common cannabinoid found in the cannabis plant. Unlike THC, CBD produces no "high" and can be safely used at any time of day to inspire healthy outcomes, enhance recovery, ease the pain, and focus the body and mind. As recreational and medical marijuana programs continue to gain traction across the world, businesses and consumers are, after all, contributing to a formal rebranding of cannabis.
Cannabis is now a medicine and an intoxicant. Hemp, itself a miracle of health, can be sold beyond the scope of a marijuana dispensary. It can be found in beauty products, lotions, and balms; in creams, oils, and edibles or patches, lubricants, tinctures, and other health products. The list, as it were, goes on.
For thousands of years, just as we are coming into this understanding formally, cannabis was considered a medicine and an intoxicant. Chinese Emperor Shen Nung introduced the crop to his Chinese digest on herbal remedies nearly 4,800 years ago, or 2,800 BC, citing its use in pain and inflammation, among others. The Greek historian Herodotus suggested a more recreational intoxication approach to cannabis was adopted by the Scythians in their famed vapor baths over 2,400 years ago. Then, in the 1900s, for nearly a century, cannabis would become perceived as a harmful drug, impacting society at a noxiously criminal level.
CBD Living Water goes beyond the benefits of CBD alone, packing nutritional mix vitamins and minerals to keep work, your personal life, and your health working optimally.
Designed to Maximize CBD Absorption
Research on cannabis pharmacokinetics (aka the movement of cannabinoids within the body) has suggested the oral bioavailability (aka the bodies ability to pass a substance into the blood via eating or drinking) of cannabinoids, including CBD is somewhere between 6%-20%. This would imply a chocolate bar with 50 mg of CBD would yield a total dose of – at most – 10 mg for the whole chocolate bar. While the process through the body into the brain is much more complicated than this, CBD Living Water is made using quantum physics – a similarly complicated scientific field.
Using nanotechnology, the size of the CBD and various nutrient molecules are transformed to one: one-millionth of their original size. These nanosized molecules are then attached to water clusters, boosting the bioavailability to 100%. This means you absorb every milligram of CBD, every nutrient contained in CBD Living Water.
Packed with Nutrients Needed to Sustain Energy
Each bottle of CBD Living Water comes packed with D-Ribose, CoQ10, and Methyl B12 – a mix of nutrients and vitamins shown to support heart, nerve, and cellular functions. When combined with CBD, it is shown to ease pain and inflammation, encourage homeostasis, and aid in the creation of neural pathways in the brain. CBD Living Water is designed to keep your brain in the symbiotic relationship to your body – something stress can push to the side.
D-Ribose is a great supplement to ensure the heart is acting reflexively to stress, rather than succumbing to increasing overall blood pressure. Using less energy by heart to pump the same amount of blood can help reduce the risk of heart disease.
CoQ10, also known as Coenzyme Q10, is excellent at supporting cell growth and maintenance, heart function, and even help enzymes in the digestion process.
Methyl B12 is a B vitamin shown to help support nerve tissue and brain cells.
All CBD Living Water has a pH balance of 7.4, helping nearly every body system reach an ideal balance.
It is Available Across the US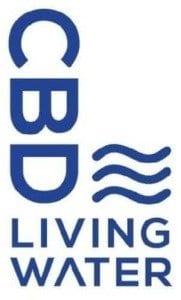 CBD Living Water distributed legally across the US. While some dispensaries, head shops, and other typically cannabis-friendly businesses have begun carrying CBD Living Water, it conveniently is available online for purchase. The California-based company has developed partnerships and an entire network of affiliates. These include chiropractors, dispensaries, gyms, health clubs, juice bars, smoke shops, and grow stores across the US. The company is most prominent across the Los Angeles area, where hundreds of businesses carry CBD Living Water.
As a testament to their reach in the rapidly evolving marijuana industry, I was able to get in contact with a budtender friend of mine, CJ Christian, at LivWell – a Colorado-based cannabis company – regarding CBD Living Water.
"Yeah, I like it. It's a little bit weird because it's something that you use once – it's kinda meant to be used all at once, but if you are having a particularly rough or painful day or you, for instance, fought hard or did something really physically difficult that day drinking the whole water is perfect. It kicks in, "He's careful not to say instantly. "…very quickly and does a solid job of relaxing your body and getting rid of anxiety."
CBD Living Water makes it easy to find their products. Their website offers a store locator, product guides, CBD information and research, and a variety of other helpful resources. You can browse and make purchases from their online store or visit one of the many dispensaries, head shops, and other businesses carrying CBD Living Water.