WASHINGTON — Stars and Stripes reported Tuesday that a bipartisan group of military veterans has introduced legislation giving the Department of Veterans' Affairs the authority to research marijuana for its medical value.
Representatives Phil Roe (R-TN) and Tim Walz (D-MN) sponsored the bill. The two men also lead the House Veterans' Affairs Committee. The VA Medicinal Cannabis Research Act of 2018 was introduced on Monday and clarifies the confusion regarding the agency's ability to conduct medical marijuana research.
The American Legion is an advocate for medical marijuana for veterans and is in support of the bill. The group has more than 2 million members and has been advocating for medical marijuana research for several years.
Polls show that 1 out of 5 veterans use cannabis to treat mental or physical medical conditions, and more than 20 veterans commit suicide on a daily basis. Many veterans with PTSD have found relief from marijuana, prompting The American Legion to support medical marijuana for vets. More than 83 percent of veterans believe that medical marijuana should be legal, according to the New York Times.
Spokesman for the American Legion, Joe Plenzler, said that the reason they support medical marijuana for vets is simple: Soldiers say that marijuana improves their mood when they are suicidal, and the Legion aims to decrease the suicide rate amongst veterans. Plenzler added that marijuana works and decreases opioid prescription drug use for veterans.
Lawmakers Promote Marijuana as Alternative to Painkillers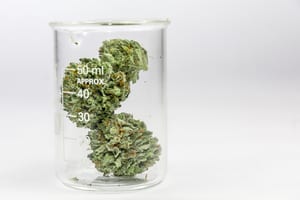 The legislators that drafted the bill refer to the advocacy of veterans' groups and the opioid epidemic in the legislation, saying that marijuana could be an alternative treatment for chronic pain and post-traumatic stress disorder. They say that these conditions disproportionately affect veterans and should be researched.
A study is already underway that was approved by the FDA and DEA to treat veterans suffering from PTSD with medical marijuana, according to Forbes. The leader of the study, Dr. Sue Sisley, said that they have a mountain of evidence indicating that marijuana has saved veterans' lives and that her study is focusing on vets that were unresponsive to other treatments.
Rep. Roe is also a physician and made a public statement last February announcing his support of medical research on marijuana, citing the search for a safer alternative to opioid prescriptions as a good reason to do so. He added that as the chairman of the House Committee on Veterans' Affairs, he was told by many injured veterans how much marijuana helped to ease their pain.
The new legislation requires the VA to give Congress progress reports on the research being conducted. The bill also gives the VA authority to begin conducting the research.