The city of love is green in all the right places. Because of San Francisco's open and inviting atmosphere toward free thinkers and open-minded cultures–in addition to medicinal patients looking for herbal relief–the cannabis industry has blossomed and bloomed all over the city. The Bay Area is open to several dispensaries that offer the best medical marijuana patient deals. From daily specials to rotating coupons, San Francisco hosts some of Leafbuyer's favorites in medical marijuana patient deals.
Bloom Room Collective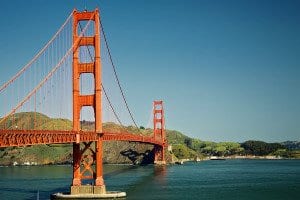 Bloom Room Collective is a medical marijuana non-profit that caters to the needs of the San Francisco community. The dispensary is patient-oriented, with innovative services, incredible deals–both daily, standing, and rotating–and low prices. Bloom Room is comprised of patients, like you, who are making the cannabis experience in the Bay Area their own.
Daily Deals: There's Marvelous Mondays, Fat Tuesdays, Wicked Wednesdays, Thrifty Thursdays, Bomber Fridays, Super Shatterdays, Double-Down Sundays, and May and June host Top-Shelf Tuesdays. Each of these daily deals come with their own special perk. All it takes is stopping in, saying hello, and checking out the mmj special of the day.
First Time Patients: All new members receive a free green gift for signing up. They treat their members–starting with the newbies–right.
Refer a Friend: When a buddy signs up, you get a free gram with that referral.
We Pay Your Tax: The sales tax in San Francisco is 8.5%. Bloom Room, through this generous deals, covers that tax on all purchases.
Birthday Gift: Happy birthday! This deal allows for a free birthday gift. Celebrate another year with the ultimate high.
Stamp Card Gram: By filling out the stamp card, patients can get a free gram of their choice.
Veteran's Discount: This dispensary wishes to thank all veterans for their service by offering 5% off all purchases.
Senior's Discount: For the young at heart, there are plenty of cannabis deals to enjoy. At Bloom Room, seniors over the age of 65 receive 5% off all purchases.
SFFOGG
Does the San Francisco air feel a little foggy? Maybe that's because of SFFOGG, one of the Bay Area's leading medical marijuana dispensaries. They're all about affordability and quality, and serving patients with healthy alternatives. Among their most popular Leafbuyer deals seen below, SFFOGG also gifts new customers with a free pipe with their first purchase.
1/8 Sale: Different strains, including Banana Sherbert, Jack Frost, Heirloom OG, Blue Diamond, and Sour Diesel are for sale, from $35-$45. Check out these discounts while supplies last.
Shatter Glass Sale: This deal grants a gram of SFV OG Shatter Glass by Top Tier Extracts for $50, while supplies last. You'll thank us later.
G-Scout Wax Deal: Feeling nostalgic? Go back in time with a gram of Girl Scout Cookies CO2 Crumble Wax for only $40, and remember what it was like to be a Brownie back in the day.
Purple Star MD
Sitting smack-dab in the middle of Mission District is San Francisco's Mission District, Purple Star MD a medical marijuana delivery service for health-minded patients and consumers. Purple Star is all about quality, price, and discretion, making it a Bay Area must. To order, register with Purple Star, surf the menu on their website, or call (415) 550-1515.
Mix and Match BOGO: This deal is about mixing and matching flower, wax, and shatter upon purchasing select strains of eighth, fourth, and half ounces; Purple Star will then double the amount for free. This buy-one-get-one special is one of a kind.
$25 Eighth Special: It's as good as it sounds: come in and present your Leafbuyer coupon to receive a 1/8 ounce for only $25.
Nug Run Shatter Deal: For only $55, this promotion gets a gram of Nug Run ChemDiesel, which is a heck of a steal. Some might even say that this deal is earth-shattering.
Black Mamba Brownie: Feeling hungry? Reach for that $20 Black Mamba Brownie, a THC-infused edible that's as potent as it is sweet.
Look no further than the Cookie Co.
415 when choosing inexpensive, Cannabis-Cup-quality marijuana. This medical
dispensary has menu items starting at $9, in addition to free delivery
throughout local San Francisco neighborhoods. It's good, clean, dank weed at affordable
prices, in an environment that shines in innovation, plus great deals.
First-time Patient: Newbies both in the shop and online qualify for four top-shelf grams for around $60, a free top-shelf pre-roll, and receive $5 off certain grams. Making a first-time purchase looks like a 3-in-1 kind of deal.
White Fire: Present this Leafbuyer coupon to get an eighth of White Fire OG for $55, while supplies last. Want to get lit? Get there by starting this fire.
Moon Rocks Special: Come in to get a gram of Moon Rocks for $30. These little nugs will rock your world–they're GSC buds that are rolled in kief after soaking in CO2 oil; a cannabis masterpiece.
Medical marijuana has so many beneficial uses for patients looking for all-natural alternatives. Many San Francisco dispensaries are bringing mmj deals for their patients, to make sure that they are serving their community right. Stop in, say hello, and check out these money-saving specials in the city of free love and foggy skies.