Insys Manufacturing LLC., a company that spent $500,000 to keep marijuana illegal in Arizona while flooding the country with prescription opioids, has now applied for a license to manufacture synthetic marijuana.
The pharmaceutical company applied for a Bulk Manufacturer of Controlled Substances license to manufacture and distribute synthetic marijuana on December 7, according to documents from the Drug and Enforcement Administration. The application was approved on March 15.
The Chicago Tribune reported that Insys Manufacturing donated half a million dollars to the anti-marijuana legalization group "Arizonans for Responsible Drug Policy" in 2016. Over the years, Insys has aggressively sought to keep marijuana illegal, even petitioning the DEA to oppose lifting government restrictions on THC in 2011. The company later petitioned the government to lift restrictions on synthetic versions of the cannabinoid CBD to make an epilepsy drug.
The company has also been investigated for multiple crimes by the federal government. Last fall, The Federal Bureau of Investigation arrested several company employees for fraud and aggressively marketing the highly addictive and deadly drug fentanyl to medical professionals and consumers. Fentanyl is an opioid painkiller more than 100 times stronger than heroin.
Pharmaceutical Company Made Synthetic Marijuana Drug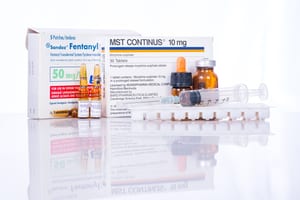 Syndros is a synthetic marijuana drug that gained FDA approval in 2016. It was approved for treating patients with AIDS and cancer to alleviate nausea and weight loss. Syndros is classified as a Schedule II drug by the Controlled Substances Act, while marijuana is classified as a Schedule I drug, the more stringent classification. Marijuana advocates have accused the company of trying to keep marijuana illegal in order to profit from it themselves.
The company said that it opposed marijuana in order to protect people, especially the children, against the perils of addiction. The company's founder, John Kapoor, was arrested by the FBI last October in Phoenix on illegal opioid distribution charges. Authorities say that Kapoor and his company committed fraud and conspired to distribute an addictive prescription drug that has contributed to the country's opioid epidemic.
Kapoor and his executives began a program to raise awareness on fentanyl in 2012 and paid medical professionals to give speeches to educate people about the drug's benefits at special events across the country. The company spent $10 million on speeches in 2014 alone. The company is also accused of racketeering and defrauding insurance companies, and has been sued by several states for their unethical practices.