In all of its green goddess glory, Hempfest is the ultimate event for anyone who loves marijuana. It's a three-day festival, complete with a political rally, concert, and fair featuring local arts and crafts. Combining longstanding tradition with activism, the gathering has a little something for everyone. Keep reading for all you need to know about the Seattle Hempfest.
Known as the world's largest annual cannabis gathering, Seattle's Hempfest is a marijuana lover's dream. This festival is a giant celebration of weed, advocating for nationwide decriminalization while offering a universal love and appreciation for the cannabis plant.
History of Hempfest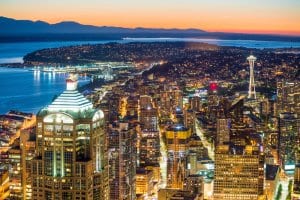 Hempfest started in 1991, under the title "Washington Hemp Expo." At the time, about 500 weed-lovers came and self-described themselves as "a humble gathering of stoners."
Since then, Hempfest has exploded, averaging over 100,000 people in attendance each year. 2008's Hempfest had a chart-topping 310,000 pot heads. What was once a single day has transformed into a three-day affair, far from its beginnings as a small passion project for local activists. The fest takes place at Myrtle Edwards Park and Elliot Bay Park, located on Seattle's scenic waterfront each year.
In the early days, Hempfest was often regarded as a singular opportunity to light up; in 1997 rebelliously blatantly, 20 people were arrested for publically smoking the then-illegal marijuana, according to Wikipedia. Before long, Hempfest and the Seattle police worked out a peace agreement, lasting through the years.
Now, the cannabis culture in Washington State looks entirely different, thanks to the adult use legalization in 2012 and the 2003 initiative making adult marijuana use the lowest law enforcement priority in Seattle.
Guest Speakers Become A Standard
There's usually a well-known guest speaker at Hempfest. In the past, speakers have included actor Woody Harrelson, Green Party representative (and former presidential candidate) Jill Stein, travel writer and TV host Rick Steves, Seattle city councilman Nick Licata, Dallas Cowboys player Mark Stepnoski, and the former Seattle Police Department chief Norm Stamper. Popular musical guests have included The Kottonmouth Kings, Rehab, and Fishbone. The allotted annual budget for Hempfest is about $700,000 as of 2013.
Seattle's annual Hempfest celebration has drawn both national attention and appeal, and has prompted many others around the world to follow suit. Though never gaining the same size or traction, there are marijuana celebrations, like those seen on 4/20, hosted across the states of Washington, Oregon, Idaho, Montana, and Massachusetts.
Hempfest This Year
Seattle Hempfest resumes on August 18, 19, and 20 this year. For a suggested $10 donation, guests can participate in the world's largest marijuana advocacy program, packed with plenty of green fun. Starting on Friday, Hempfest will feature Leafbuyer and over 120 bands, new public speakers, guest panels, and 420 vendors of both local and national products.
Though fun is a major element of Hempfest, the main goal of the event is still cannabis education. There will be information available on the cannabis plant, laws regarding use, reform efforts, and facts about the growing legal industry within both recreational cannabis and medical marijuana worlds.
Attendees are encouraged to check out Hempfest's 25 national and regional movement goals, available online.
Hempfest is a rad opportunity to advocate on behalf of marijuana use, experience the legal joys of weed, and soak in the community of cannabis lovers gathered from across the United States. It's every ganja lover's paradise, with one heck of a cause.
Article By: Savannah Nelson