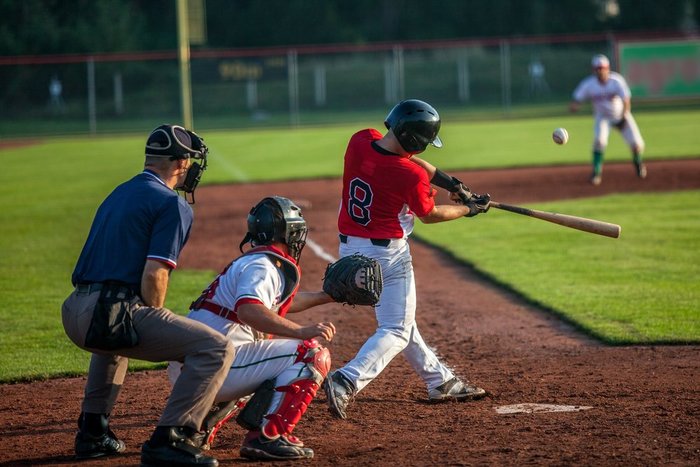 Baseball season is here, in full swing. What's summer without catching a game, munching some Cracker Jacks, and watching America's favorite pastime high as a fly ball? Marijuana goes hand-in-hand with baseball. Though it takes mental tenacity to follow along pitch-by-pitch, the sport goes at more of a leisurely pace than others that demand constant, fast-moving attention. As a fan in the stands, this means that there's plenty of time to space out, without really missing too much.
Weed can add to the game, enhancing home runs to sky-souring victories, increase focus for those who can't seem to pay attention to the count, or add to the overall experience of hanging with friends and giggling through all nine innings.
In San Francisco, the Giant's AT&T Park is a perfect place to catch a hazy game. It's the best place in the National League West to catch a game high, so take advantage. In addition to having both medical and recreational dispensaries, this California city has a reputation for going green. If you're trying to figure out where to buy weed in San Francisco, be sure to stop at one of many pot shops on the way to the game.
While you're there, check out these five cannabis products to grab on your way to the ballpark.
Korova Mini-Cookies
If you are a ballpark regular, you have probably noticed that much of the fare, including beer, hot dogs, sweet treats, is severely overpriced. If you're tired of paying more than $15 for cotton candy that doesn't seem to last, fear not. Forego the chocolate-covered banana stick this trip, and instead opt for a few mini cookies on the way to the stadium. Korova has several flavors that cookie-lovers are sure to find satisfying, including the classic chocolate chip, plus peanut butter, vanilla bean, double chocolate, mint chocolate, and oatmeal glaze. These mini cookies come in either high-CBD or THC varieties, which is a nice choice to have. The bags are big enough to share, and each infused dose packs a tasty punch.
Where to buy weed in San Francisco: Barbary Coast Collective
Ghost O.G.
Baseball is poetic. It is a game of incredible discipline, strategy, and dedication, yet it is also filled with nostalgia, ease, and hope. If there is any strain to match baseball's tempo, it is Ghost O.G. Like the balance of the game, Ghost O.G. brings an even high between cerebral and body effects. It is both potent and non-intrusive and is thought to uplift consumers; it is often considered a real grand slam. Enjoy Ghost O.G. before your foray into AT&T Park.
Where to buy weed in San Francisco: Elevated San Francisco
Cannabis Quencher
It's hot in the Bay City, especially right on the first-base side as the sun begins to set. Satisfy your thirst, in addition to your taste buds, with a Cannabis Quencher drink. These infused drinks are known for being potent, refreshing, and very fast-acting, which is good if you'd like the THC to hit before the first pitch. These smoothie-like sodas are made with organic fruit concentrates and come in a bunch of flavors, like hibiscus, mango, strawberry lemonade, and guava. They are a great accompaniment to any MLB game, leading to a delicious and fruity high.
Where to buy weed in San Francisco: Green Door – San Francisco
Heavy Hitters Concentrate
To go with the theme of the night, support the Giants' lineup by getting high with Heavy Hitters' cartridge. These concentrates, which come in flavors like blueberry, Blue Dream, Diablo O.G., Girl Scout Cookie, or Malibu O.G., are a delicious and inconspicuous way to enjoy your cannabis before the game. Grab your vaporizer and blend in with the other smoky crowds, and fill your system with one of many concentrates. With enough practice, maybe your o's will start to look like little baseballs.
Where to buy weed in San Francisco: Waterfall Wellness
Pre-roll
Let's be honest: You're on the way to a baseball game. You don't have a lot of extra time – the best thing to do is to get to the park, find your seat, and relax with plenty of time before the game starts. When it comes to getting high, it has to be fast. The best option for anyone trying to be as efficient as possible with their marijuana is to get a pre-rolled joint at a dispensary. These can be found at nearly any San Francisco dispensary, but the strain choice matters. One recommendation is the Bob Saget pre-roll, which is full of a stimulating sativa. It is very fast-acting (sometimes with an overwhelming or agitating effect at first), and then lessons to a lucid-yet-spacy, uplifted high. You'll be seeing angels in the outfield in no time.
Where to buy weed in San Francisco: Grass Roots Dispensary
When you're looking at the best places where to buy weed in San Francisco, be sure to look up the best deals on Leafbuyer.com.