No one likes being tired. Fatigue makes days drag on, and it can make for painfully sleepless nights when it coincides with insomnia. When the fatigue is chronic – as it is with many medical conditions – it can sink your quality of life significantly. Cannabis isn't usually associated with an increase in energy, largely due to the pervasive stereotype of the couch-locked stoner. But ask any knowledgeable friend or budtender, and they'll tell you that to get the right effects, you need the right cannabis strain for fatigue.
There are several weed strains that'll banish fatigue and help you get up and go when you need to! Here are three of our favorites.
Let's start off with a bang! Green Crack lives up to its name – figuratively, of course. This strain has been blowing minds since the mid 1970s, although no one is 100% sure what its genetics are. It's definitely related to Skunk #1, and many speculate that some Afghani landrace strains were woven into the gene sequence. Whatever they were doing during Green Crack's development in Georgia, they hit on a winning formula.
This strain produces a classic indica phenotype, with small, dense, and resinous nugs. Their bright green color is punctuated by rusty orange pistils and muted by a generous coating of trichomes. Just the smell of it is invigorating, thanks to a bouquet of fresh citrus and woody, earthy underpinnings.
Green Crack is what you call "a kick in the pants." Even though it's phenotypically indica, the effects are those of a serious sativa. A surge of mental energy hits hard and fast, with a cerebral high that makes doing your daily chores feel just fine.
It's ideal for a wake-and-bake on those days where you just can't seem to get out of bed, and it can improve focus when dosed correctly. But be careful: Green Crack can have mind-racing effects that can be overwhelming at high doses.
If you're prone to paranoia, you'll want to be extra careful. In small doses, Green Crack is definitely one of the best strains to help fatigue.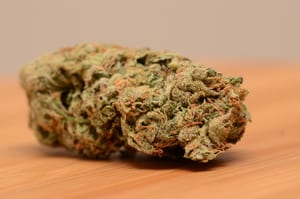 This strain is something of a misnomer, as the only amnesia it induces is the feeling of no longer being bone-tired.
It's a cross between Haze and a variety of landraces. Thai, Afghani, and Hawaiian landraces all make an appearance in Amnesia Haze's lineage. As a sativa-dominant strain, Amnesia Haze creates a balanced high with a cerebral bent.
Aside from being one of the best strains to help fatigue, Amnesia Haze is a real looker! The nugs are dense and fairly chunky, with a shape that's neither classically indica nor sativa. Buds are normally medium green, but some curing methods lead to an almost yellow coloring to the flowers.
The aroma of this strain is a delightful melange of scents, led by a zesty lemon and followed up by wood and earthiness. There's even a hint of spice in the resin, which is revealed upon breaking up the buds.
When smoking Amnesia Haze, you'll quickly find out why it's one of the best strains for fatigue. While there are some physical effects, they're more relaxing than a sedative. Anxiety drops away, and the mind is transported to an uplifted state.
This is an energizing strain, but it doesn't carry much risk of paranoia or mind racing. The effects manifest mostly in renewed focus and relaxed body, making Amnesia Haze a great strain for any tasks that require mental and bodily energy.
If you want to avoid getting high altogether, Harlequin is one of the best CBD-rich strains for fatigue. While the CBD craze is in high gear right now, Harlequin was around well before most people even knew what CBD was.
This strain has a bit of a cobbled-together genetic background, incorporating multiple landrace strains including Thai and Colombian Gold. It's mostly a sativa (about 75%) and is generally found with a 5:2 ratio of CBD to THC.
Harlequin is all about moderation in its appearance, as well as its THC levels. The buds are a medium green and a medium size, dotted with pistils that range from orange-brown to bold red.
Even though you're looking at a THC content of about 10% max, Harlequin still has a lovely coat of trichomes that lend stickiness to the buds. The primary aroma is a mix of wood and tropical fruit on an earthy base. For you hackers out there, Harlequin is a great choice due to its reputation for a smooth smoke!
As strains for fatigue go, this one hits right at the source. Its high CBD content helps diminish aches and pains as well as joint stiffness and other inflammatory symptoms. It's known to aid focus, and the small amount of THC helps instill an uplifted frame of mind that can help you complete whatever tasks you have ahead.
Get Your Energy Back! Dealing with fatigue is an uphill battle, but the right cannabis strain can help. Try out the strains we've recommended and let us know how they work for you!