There has been an unprecedented amount of seniors requesting to use cannabis in nursing homes to relieve their ailments. Research shows that cannabis relieves many side effects that come with an aging body. Studies and polls find that many people over the age of 50 use marijuana recreationally, but it is unknown what the long-term effects are with the elderly using cannabis regularly. This uncertainty contrasts with opioids, for which we know the long-term effects but continue to make it rain with prescriptions.
Unfortunately, if a senior is looking to use marijuana outside just their own home, it could be difficult to use cannabis regularly as an alternative pain reliever.
What Constitutes a Nursing Home?
The term is general and is sometimes misused to include other facilities.
Nursing Home: These are the patients who don't need hospital attention but can't live by themselves. They have full-time care with skilled nurses scheduled 24 hours a day.
Assisted Living Retirement Communities: Seniors who live here need moderate care but have their own homes, apartments, condos, etc. Care includes basic needs like medication and transportation.
Age-Restricted Retirement Communities: You will find residents over 55 in these communities. These communities are regulated by the departments of Housing and Urban Development (HUD) and Housing for Older Persons.
Other communities see less of an issue as they are self-reliant and usually own their home.
Independent Living Retirement Communities: Qualified people need to be over 50 years of age and self-reliant, but they enjoy the amenities and common interests with similar people. They are active and healthy.
Many facilities seem to be encountering a similar problem. Seniors can buy cannabis products in legal states, yet nursing facilities can be a crucial block for them to use it. Cannabis is still illegal on a federal level. Nurses and facilities are hesitant to allow it even though many healthcare workers believe that it can help.
Few officials are speaking out for or against medical cannabis in nursing homes. And it doesn't matter about the political opinion. Public Affairs Director Deborah Pacyna of The California Association Facilities has been vocal about the legality involved in this issue, saying it's not about the right to consume cannabis.
The nursing homes are funded by the federal government, and while cannabis legalization is gaining momentum, the plant remains illegal at the federal level. Any violation of the federal law could result in losing aide from various areas. Federal aid is associated with over 75% of the nursing facilities.
So What Are We Doing About It?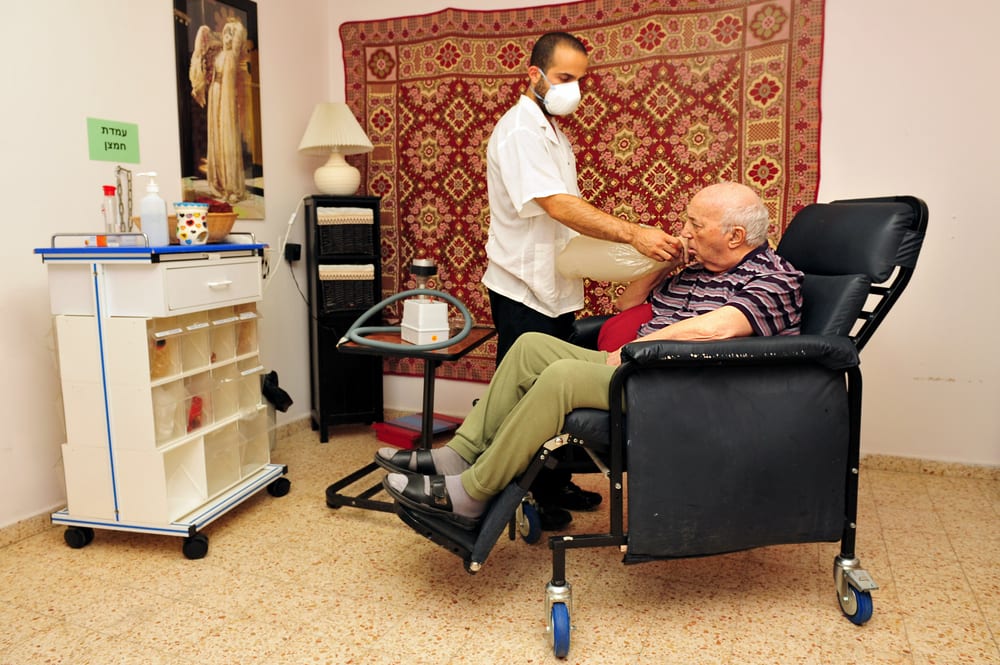 This issue has gained momentum as states allow for legalization, although it has been an issue long before legalization's popularity. In 2015, an ombudsman sent out a questionnaire to the then-legal states asking what they were doing about cannabis in senior facilities. Responses varied, but many acknowledge one thing:
California
California relies on the federal law to prohibit the right for nursing facilities to dispense medical marijuana. Until that changes, federally certified care facilities will not allow it.
Colorado
Even though Colorado has been fully legal for about four years, they also prohibit medical marijuana in nursing facilities due to its status on the federal level and risks to the facility. They would also want to develop training on the issue.
Hawaii
In Hawaii, lawmakers do not believe they have an issue. However, the state has seen cases involving residents getting busted for marijuana use. Until it's legal, it is a crime and will be treated as such. The law should be involved if there is a case of usage in a facility. Even if they just smell it.
New Mexico
Again, it violates the federal law and also CMS policy. In New Mexico, the best way to get around it is a transition home which is only temporary housing.
Others have similar responses.
How Do You Get Away With Having It?
The ways around this conundrum vary from state to state. The official answer is that they have no answer. But even with its status on a federal level, many seniors and facilities get around the law. Some places allow medical cannabis but have strict procedures established. Some have to find alternative ways.
In New York, if the caregiver administers the cannabis, the caregiver must be registered by the New York State Health Department. Nurses and caregivers must follow up to make sure that using cannabis is useful. The staff is trained to spot behavioral issues and abuse by tracking the usage. Places with strict rules allow it for only debilitating illnesses like Crohn's disease, AIDs, and treatment of cancer symptoms.
Washington State has over a dozen authorized facilities.
At the end of the day, it's all on a case-by-case basis.
There's a "don't ask, don't tell" system in some nursing homes. Some have their family buy it and give it to them during a visit. Residents are told to lock it away in places that are considered their personal property and administer it themselves.
You Know They'll Do It Anyway
Ruth Brunn, 98, finally said yes to cannabis after a time of pain and prescription pills. She has neuropathy causing pain in her shoulders, arms, and hands. She takes cannabis oil pills. According to her, the cannabis products she uses don't end with her being stoned or high. She just feels better, waiting for the pain in her shoulders, arms, and hands to ease.
Her nursing home, Hebrew Home at Riverdale in New York City, is helping its residents use medical cannabis by creating a program to be the alternative to taking prescription drugs. Residents will be allowed to buy it from a dispensary, keep it locked in their rooms, and take it on their own. The staff is not allowed to administer it.
How Seniors Consume Cannabis
Consuming cannabis is the same from adulthood to older adulthood. Smoking is the most popular for younger users, but for seniors, forms like pills and oil-based solution are the way to go. The favorite and the most suggested way to consume it in nursing homes is to eat it.
Analysis of Seniors and Marijuana
Seniors take up about 30% of all the prescriptions given out. More importantly, roughly 50% of senior Americans suffer from some sort of chronic pain. With the integration of medical cannabis, Medicare saw over $165 million in savings on prescription drugs in 2013. The estimated savings would be about $450 million if all states went legal.
An analysis conducted between 2006-2013 with 47,100 respondents from US demographics. It shows an increase in elderly use from 2006-2007 and again in 2012-2013, increasing about 58% in the 50-64 age bracket. In that time, the analysis shows a 250% increase of use in respondents 56 and older.
Additionally, the study shows that only 7% met the criteria for cannabis abuse. 79% acknowledge they use it on a weekly basis.
Why Is This So Important?
Prescription opioid misuse in the USA has increased tremendously since 1990. Now, the opioid problem has reached epidemic proportions, pushed along by legal opioid prescription drugs. That includes our seniors who rely on it. It's available to most and easy for the elderly to obtain prescriptions.
Opioids are intended to help seniors continue to be self-reliant and keep their debilitating pain in check. They, like anyone taking opioids, have that chance to misuse and abuse their prescriptions. Its possible seniors will experience more problems with medications because of their increased medication sensitivity as well as slower metabolism and elimination.